PVP has the ability to send triggers to one or more Backup ("Slave") computers. This feature is designed so that you can have a backup computer running PVP that is automatically following the primary computer. You can set up as many Backup computers connected to one Primary computer as you would like.  
This feature was introduced in PVP 3.2, so make sure you have this version installed to be able to use this feature.
Setting Up Backup Triggering
You will first need to setup and retrieve information from your Backup computer(s). First, on each Backup machine, head to the Network tab of PVP's preferences and click the checkbox next to Enable to turn on this feature. Make a note of the Port number (which will be automatically generated or you can enter in manually).
In addition to this, you will need the IP Address of the computer; click on the Apple icon in the upper left corner of your screen, select System Preferences, then click on the Network tab to see the computer's IP address.
For added security you can click the checkbox next to Use HTTPS Connection and/or Require Authentication; if enabling the latter then you will need to make a note of the Authentication Token for that computer.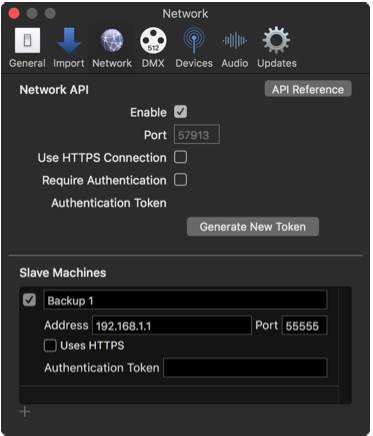 Once you have all of the necessary information for each Backup computer, head to the Primary computer and open PVP's Preferences to theNetwork tab. Click the checkbox next to Enable to enable the feature. Add a Slave by clicking the + in the lower left. To delete a machine, right click and select Delete or, if you have a touchpad, swipe to the left while the mouse is over that machine.  
For a given machine, click the checkbox to enable or disable that machine. You can add a custom Name to the machine to help remember which machine you are controlling. Type out the IP Address, Port, and Authentication Token (if required) of the backup machine.  Click the Uses HTTPS checkbox if you have that option selected on the Backup machine.
Using Backup Triggering
Once set up, the Primary computer will send commands to all Backups that are enabled. Supported commands would be any changes made to PVP from the primary window; primarily this would include clicking on Cues and other Actions,but it can also include other events such as changing the Opacity on a specific Layer, or changing an Effect on the Master Layer.
Please note that there are some items that can be triggered and some that cannot.  For more information on what does and does not get sent over the  Network Backup Triggering feature, see this article.