This article will go over how to update your graphics drivers. Keeping these up to date can often ensure the most smooth experience while using ProPresenter 7, along with the other programs on your Windows computer.
We recommend AMD Radeon, Nvidia RTX, and Nvidia GTX graphics cards. Other cards may work, but the recommended ones would guarantee the best experience.
If you are unsure of what type of graphics card you have, or its exact model number. Open Task Manager, navigate to the Performance tab, and select the GPU (Graphics Processing Unit)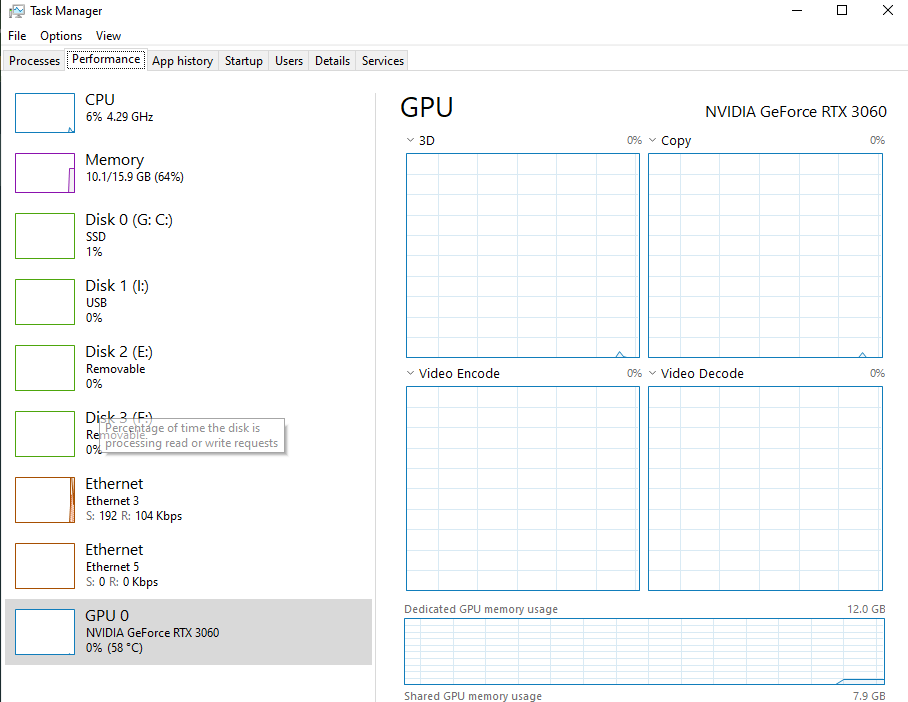 Nvidia Graphics Cards
You can find the latest graphic drivers for Nvidia cards at download page of their website: https://www.nvidia.com/Download/index.aspx
Once there select the appropriate Product Type, Product Series, the exact Product, and then your Operating System. For ProPresenter we would advise the Game Ready Driver (GRD). Then click Search.
You will be brought to the download page. Click download, then click download again on the second page you are brought to. Then run the .exe that is downloaded. From there follow the appropriate prompts to complete the install process. Restart your computer and your drivers should now be up to date.
AMD Graphics Cards
You can find the latest drivers for AMD Graphics Cards on their support page here: https://www.amd.com/en/support
Once there search for your appropriate card via the search all products dropdown.
Now on the download page click the plus for Windows 10 or Windows 11, based on what operating system you are on. Then click Download for the appropriate driver. We recommend the latest Adrenalin Edition driver. Then run the downloaded .exe, follow the appropriate prompts from the installer, and then restart your computer. Your drivers are now up to date.