Alpha Keying in ProPresenter is beneficial to showing content within ProPresenter over live video when an external camera switching device is being used. Alpha keying is the best of the three different types of video keys, which include Alpha, Luma, and Chroma keys. Starting with ProPresenter 7.14, Alpha keying in ProPresenter can be done with all output types.
ProPresenter 7.14 is available to anyone who has a valid ProPresenter+ plan after 08/15/2023.
What is a Keyer?
A "keyer" is what a video switcher uses to composite multiple sources. ProPresenter can generate sources for a switcher's keyer so partially transparent sources can be keyed over other sources in the video switcher. This is what ProPresenter calls an Alpha Key output.
Alpha Keying with SDI
To set up an SDI Alpha key in ProPresenter, you will first need to download the BlackMagic Drivers for your device. We have a list of supported devices for BlackMagic products. Once the driver is installed, you will be prompted to restart the computer.
Inside of BlackMagic Desktop Video, you will need to set the card up for keying. For most devices, you will need to have your connectors mapped together. For instance, on the DeckLink Duo2, you'd set SDI 1 and SDI 2 together. But for a BlackMagic 8K Pro, you'd want to set each connector as "in or out" for maximum flexibility.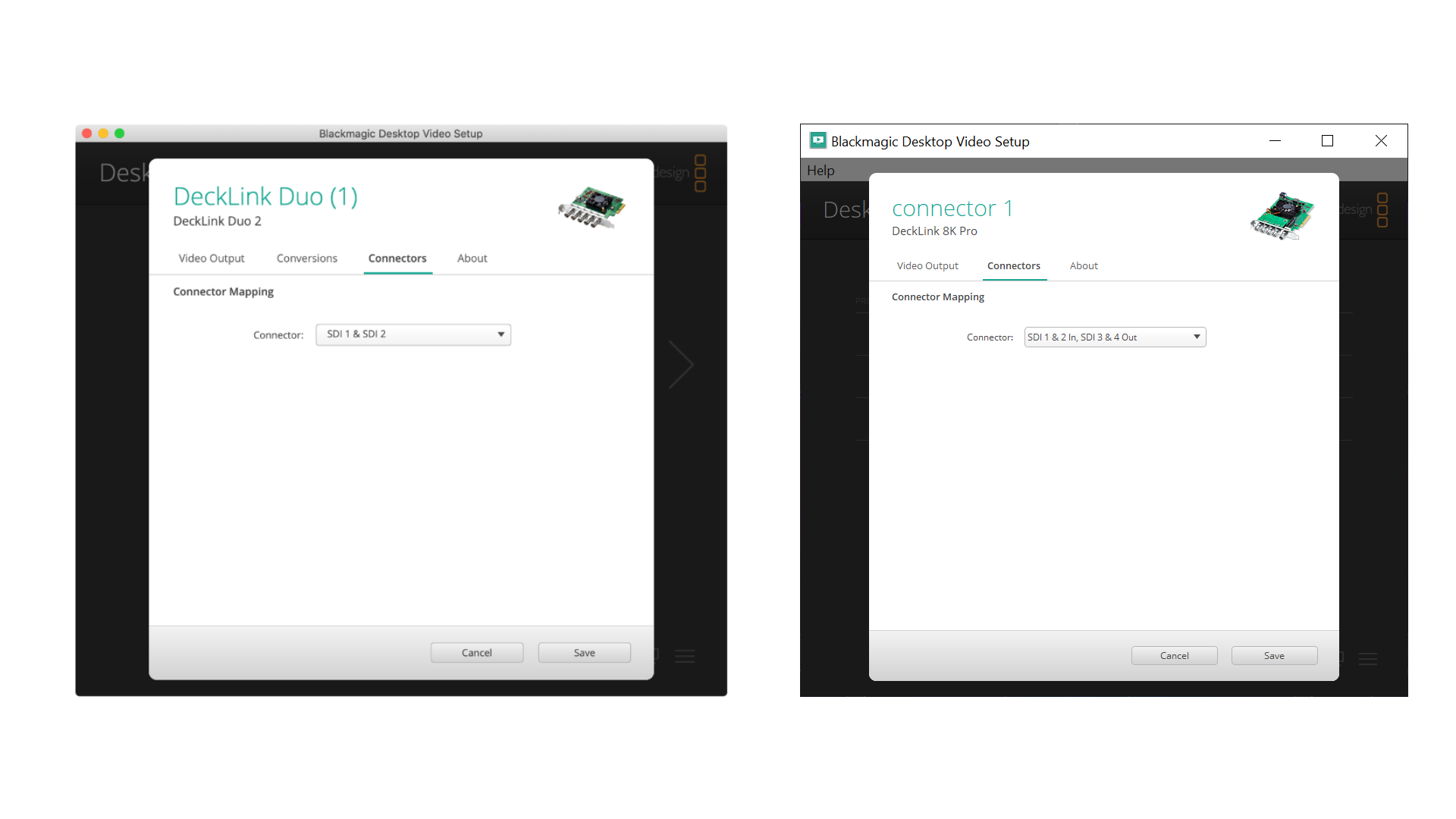 Once this is done, open ProPresenter, and navigate to the Screen Configuration window from the menu bar. The first step here is to select a screen that can be used with an Alpha key. In the screenshot below, this is set up as an SDI screen, from a DeckLink Duo2. The mode of the screen needs to match whatever your desired frame rate and resolution in your setup.
Even though you are sending two physical sources, you will only set up one DeckLink screen.
Navigating to the Alpha tab, you can enable a Straight key, Premultiplied key, or choose None to disable the key on this output, but for most users, Premultipled is the choice you'd select. More information on these types of keys can be found in the article here. Lastly, for most setups, and if using a video switcher, an External Key is what most users need to select here.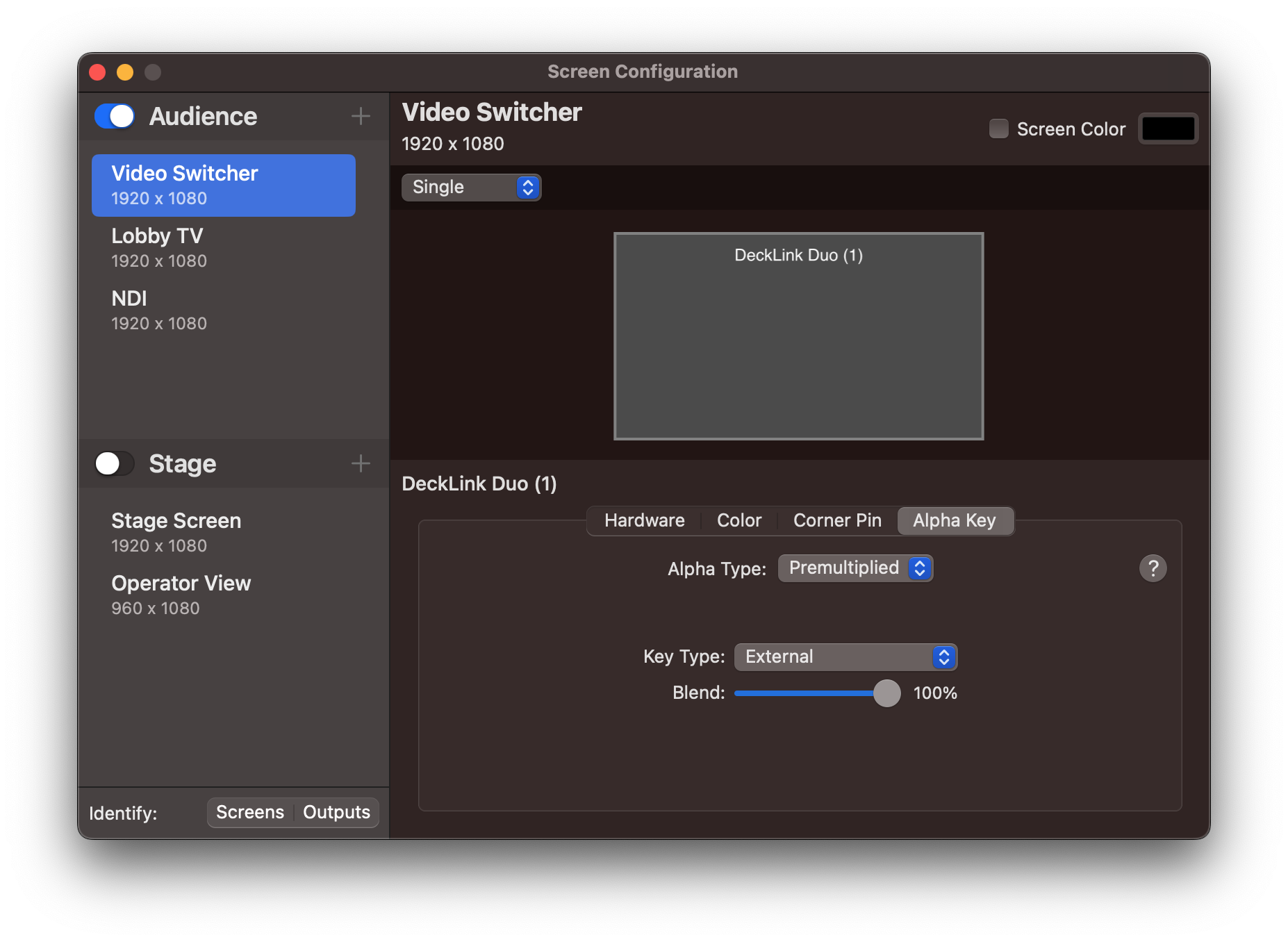 Alpha Keying with NDI
Setting up an NDI Alpha key is very straightforward. An NDI output is simply sent out over your network and can be picked up by a program/application/hardware unit that can receive an NDI signal. You also have the choice of straight or premultiplied keys here as well.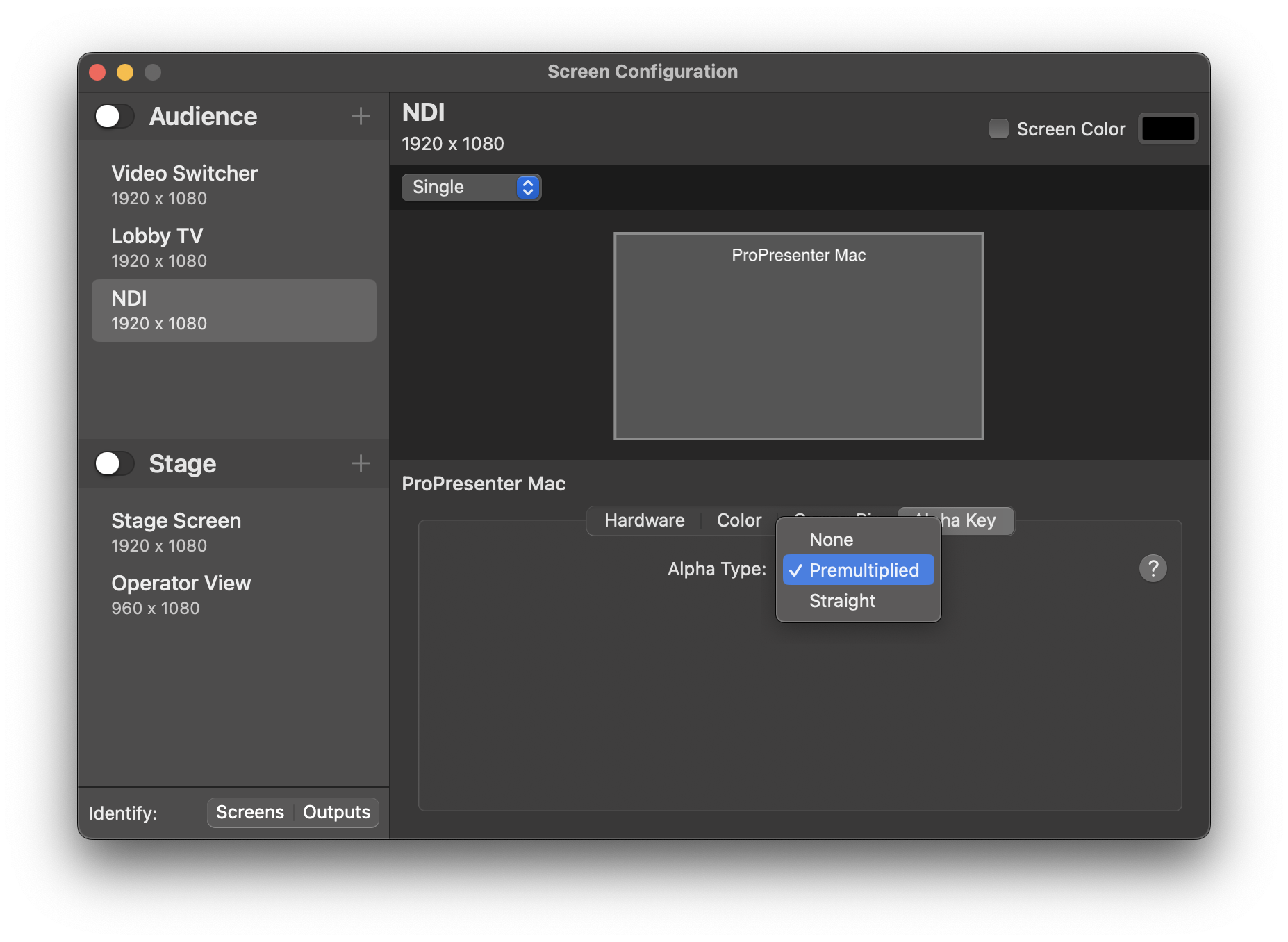 Alpha Key with Separate Graphics Outputs
Starting in ProPresenter 7.14, there is an alternative way to set up an Alpha key with other outputs. In this version, you can assign any display to be the 'key' of another output. This will provide users the ability to have a true Alpha key over graphics outputs (the HDMI/DisplayPort outputs of your computer), instead of video outputs (such as BlackMagic DeckLink or UltraStudio cards).
To set this up, select your output from the "+" button next to "Audience", and then select the "Alpha Key" tab. This tab will allow you to choose another display to select as an alpha send to allow your video switcher to use this as a true downstream key.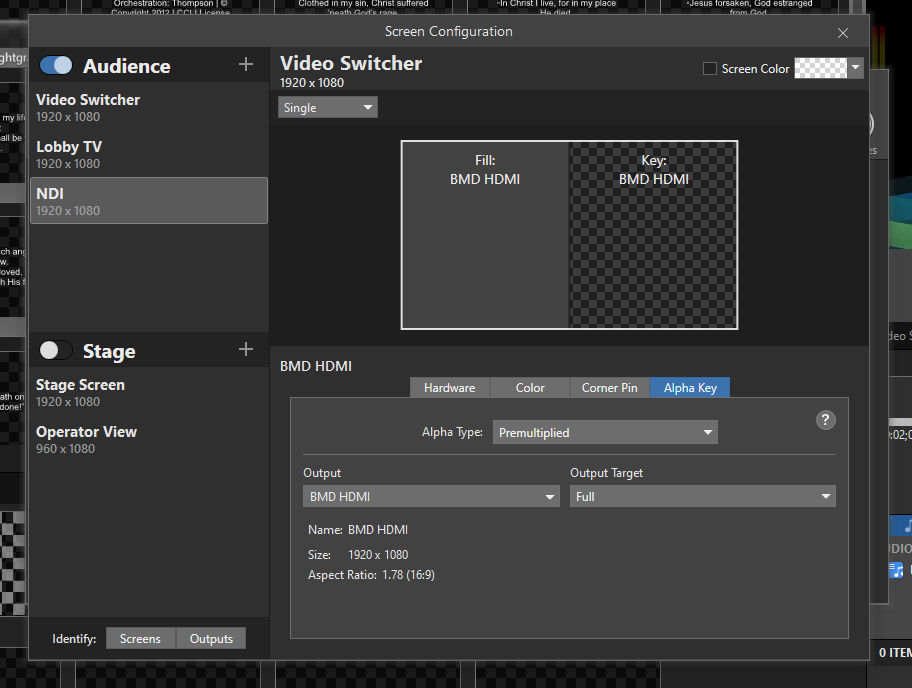 Alpha Key outputs sent over graphics outputs are not necessarily frame synced. If your graphics card supports this, they will be. Otherwise to guarantee frame sync, you will need a device such as an AJA HA5-4K to set up as your single screen, and this will be frame synced. Alternatively, you can use a frame-synced DeckLink 8K Pro to configure two Alpha Keys if the device is set up for all connectors to be either inputs or outputs.
More information on Alpha Keys
An alpha key is one of three standard keying methods. The other two methods are chroma keying and luminance keying. Most switchers support chroma keying. If you're familiar with watching the weatherman on your local news station, then you understand the concept of chroma keying. Most switchers can also remove black and will call it a luminance (or luma) key, and this removes shades of gray/black to achieve the same effect. You can do a chroma key with any solid color. A true luminance key is usually only available on high-end switchers.
The difference with those types of keys and an alpha key is that they generally use a single video input and just remove a color. With an alpha key, you are providing a key and fill signal to your switcher. For NDI, you are only making one connection and the receiving software processes the data and knows what to display. For SDI, you are sending two physical connections. You have to set up your switcher's keying settings to know which is the key and which is the fill signal, and then it handles processing the signal over your other sources.
The below image shows what's actually being sent for the key and fill signals. The key signal appears as a black and white source and the fill signal looks like your content, but the key signal is actually more complex than that. Any area that appears as black is actually representing no content, or a pixel with zero opacity. The white areas are actually a grayscale from 0-100% representing the opacity of the pixel that exists at a given point in the signal. You can see this best in the example in the upper right corner. The odd number lines are yellow lines set to 25% opacity. The green box with the text is set to 50% opacity. The even lines are blue and have 100% opacity. You can see the difference in the lines outside of the box and with how the yellow lines interact with the green box. Anywhere that is black will show whatever the other video source is that you are using under your key. Any areas that are not solid white will show the content with some amount of opacity.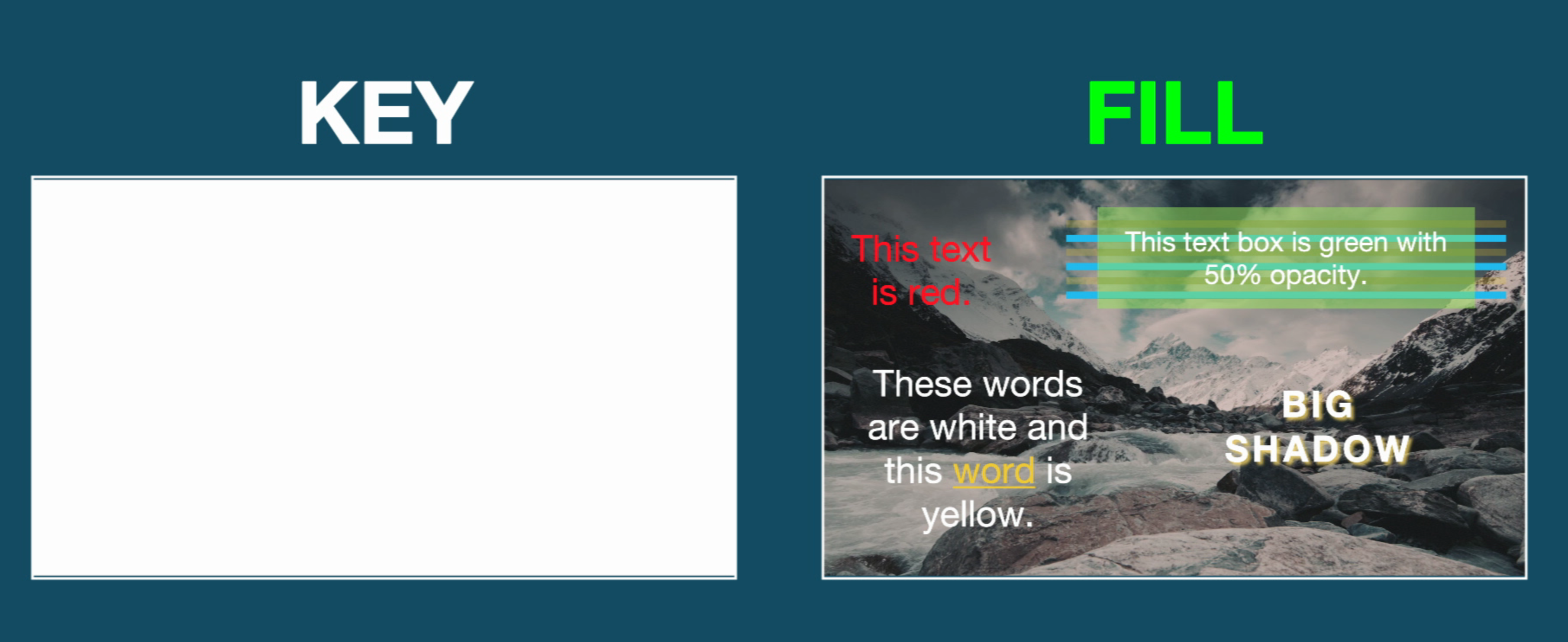 The fill signal is the color image that you're outputting. If you are showing a full screen video or set a background color for your slide(s), then the key signal will actually be solid white because the entire fill area now has content covering the entire screen at 100% opacity.
Internal & External Keys
An External Key is what most people will use, if using a video switcher. An External key would be used if you are sending separate key and fill outputs to your broadcast video switcher. It sends the key signal through the preview out of the Blackmagic device and the fill out of the program output.
An Internal key would be used if you are using the Alpha Keyer as a downstream key, with a video input coming into the Blackmagic device and one going out of it.
Below is a chart that shows which devices can alpha key and what their supported resolutions are.
| Device | Internal | External | SD | HD to p30 | HD to p60 | UHD to p30 | UHD to p60 |
| --- | --- | --- | --- | --- | --- | --- | --- |
| DeckLink Duo | yes | no | yes | no | — | — | — |
| DeckLink Quad | yes | no | yes | no | — | — | — |
| DeckLink SDI 4K | yes | no | yes | yes | yes | no | — |
| DeckLink Studio 4K | yes | yes* | yes | yes | yes | no | — |
| DeckLink 4K Extreme | yes | yes | yes | yes | yes | no | — |
| DeckLink 4K Extreme 12G | yes | yes | yes | yes | yes | yes | yes |
| DeckLink 4K Pro | yes | yes | yes | yes | yes | yes | yes |
| DeckLink Duo2 | yes | yes | yes | yes | yes | — | — |
| DeckLink Quad 2 | yes | yes | yes | yes | yes | — | — |
| DeckLink 8K Pro | yes | yes | yes | yes | yes | yes | yes |
| UltraStudio 4K | yes | yes | yes | yes | yes | no | — |
| UltraStudio 4K Extreme | yes | yes | yes | yes | yes | yes | yes** |
| UltraStudio 4K Extreme 3 | yes | yes | yes | yes | yes | yes | yes |
| UltraStudio 4K Mini | yes | yes | yes | yes | yes | yes | no |
| UltraStudio HD Mini | yes | yes | yes | yes | yes | — | — |
—= Video mode not supported for playback
*= SD only
**= Over PCIe only