Just as there are different options for setting up multiple screens for video in ProPresenter, there are also options in place for setting up your Audio Outputs.
You can select what audio device/setup works best for you in the Audio tab of ProPresenter Preferences.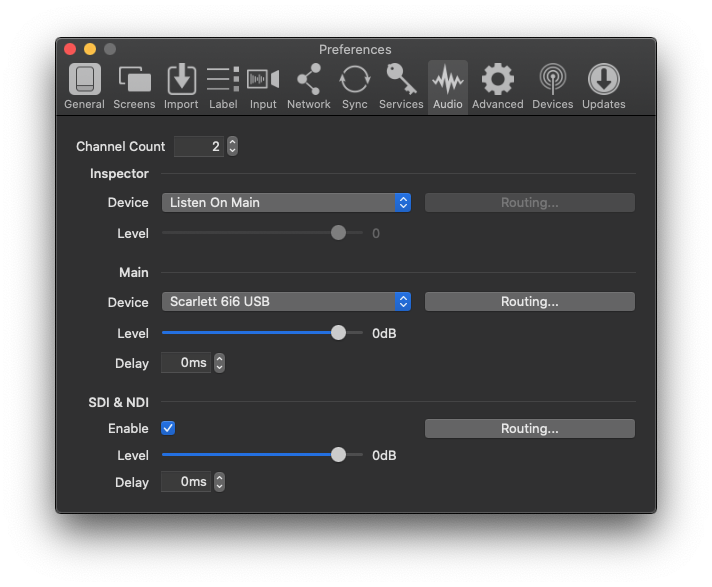 Here, you first select the number of channels you wish for ProPresenter to process (both for inputs and outputs). This number is set to 2 by default for a typical stereo (Left and Right) channel output. If you are using multi-channel audio input devices or want more flexibility in how you process your audio, you can choose more channels. There are different audio output options for the Media Inspector, the Main output, and for SDI and NDI outputs.
For the Inspector Output, you can choose a device to preview the audio of media shown in the media inspector. This is useful, for example, if you want to use headphones plugged in to the computer to check the audio of a media file without impacting the audio going out the main output. You can also choose individual Routing for the Inspector output and an overall volume level.
For the Main Output, you can also choose an output device. Typically, this will be the System Setting unless you are using a more specialized setup for your audio output. You have the option to set a volume level for the main output of the program, as well as the ability to delay the audio up to 1500 ms.
You can route ProPresenter's audio channels to the channels of your output device here as well. More information on Audio Routing can be found here.
If you are outputting your main audio output via either NDI or SDI, you should enable the SDI & NDI option. More information on this output type is available in our article here. (NOTE: if you are only using SDI or NDI for your audio output, you should choose "None" for you "Main" output and enable the SDI & NDI option.)