ProContent is a new service offered by RenewedVision, providing a direct way to download motion packs, design assets, and ProPresenter Themes! The functionality described in this article starts with ProPresenter7.13, and is available to anyone with a ProPresenter+ renewal after 03/08/23.
What sets ProContent apart from other media subscription services is its direct integration inside of ProPresenter and in the following article we'll walk through the different features available.
Logging into and out of ProContent
There are two locations inside of ProPresenter where you can access the ProContent login page. The first is within the ProContent tab of ProPresenter Preferences. From this window you can also click"Sign Up" to either create your Free account or subscribe to the paid version of ProContent.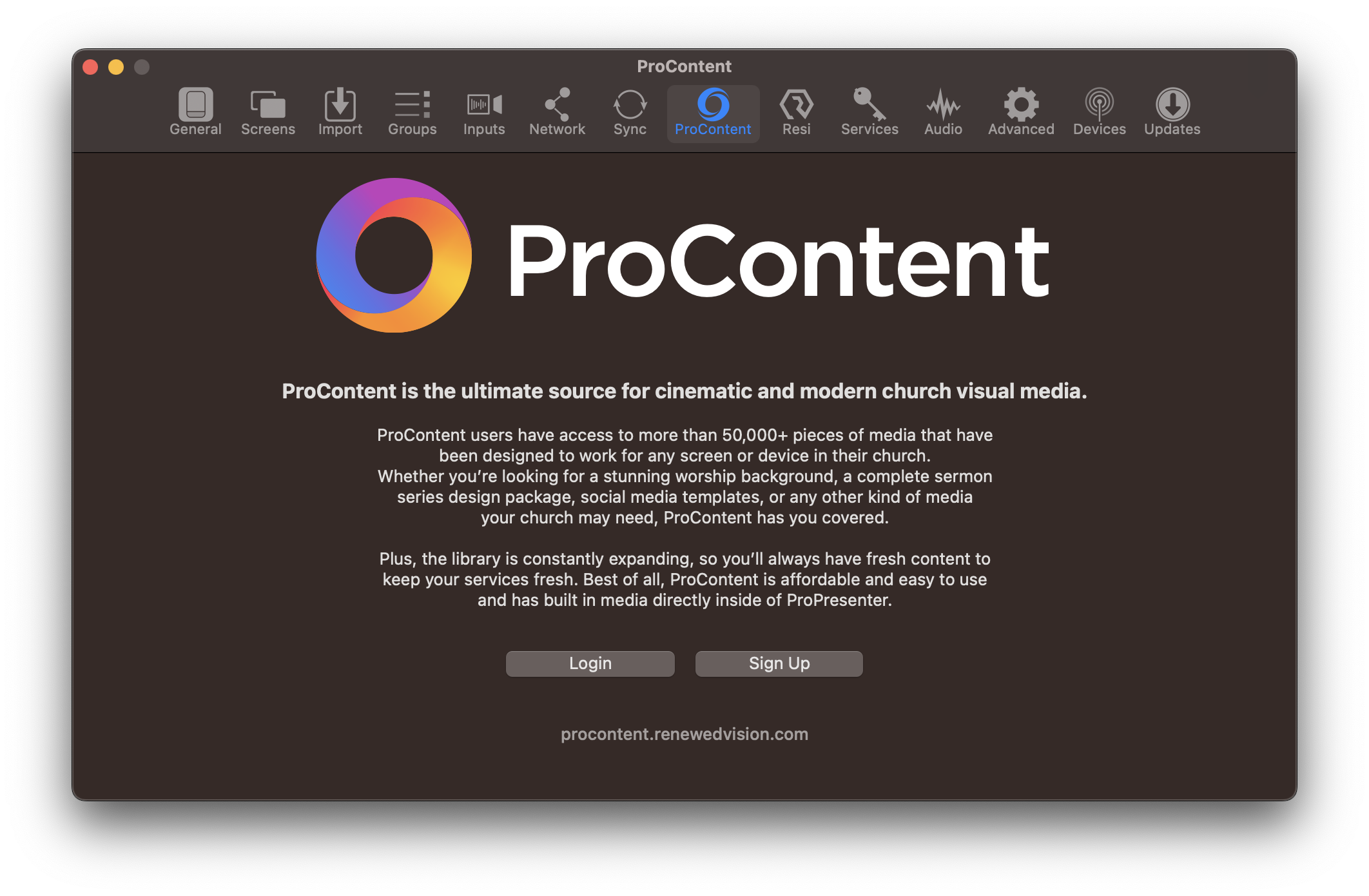 You can also access the login window via the ProContent section of the Media Bin.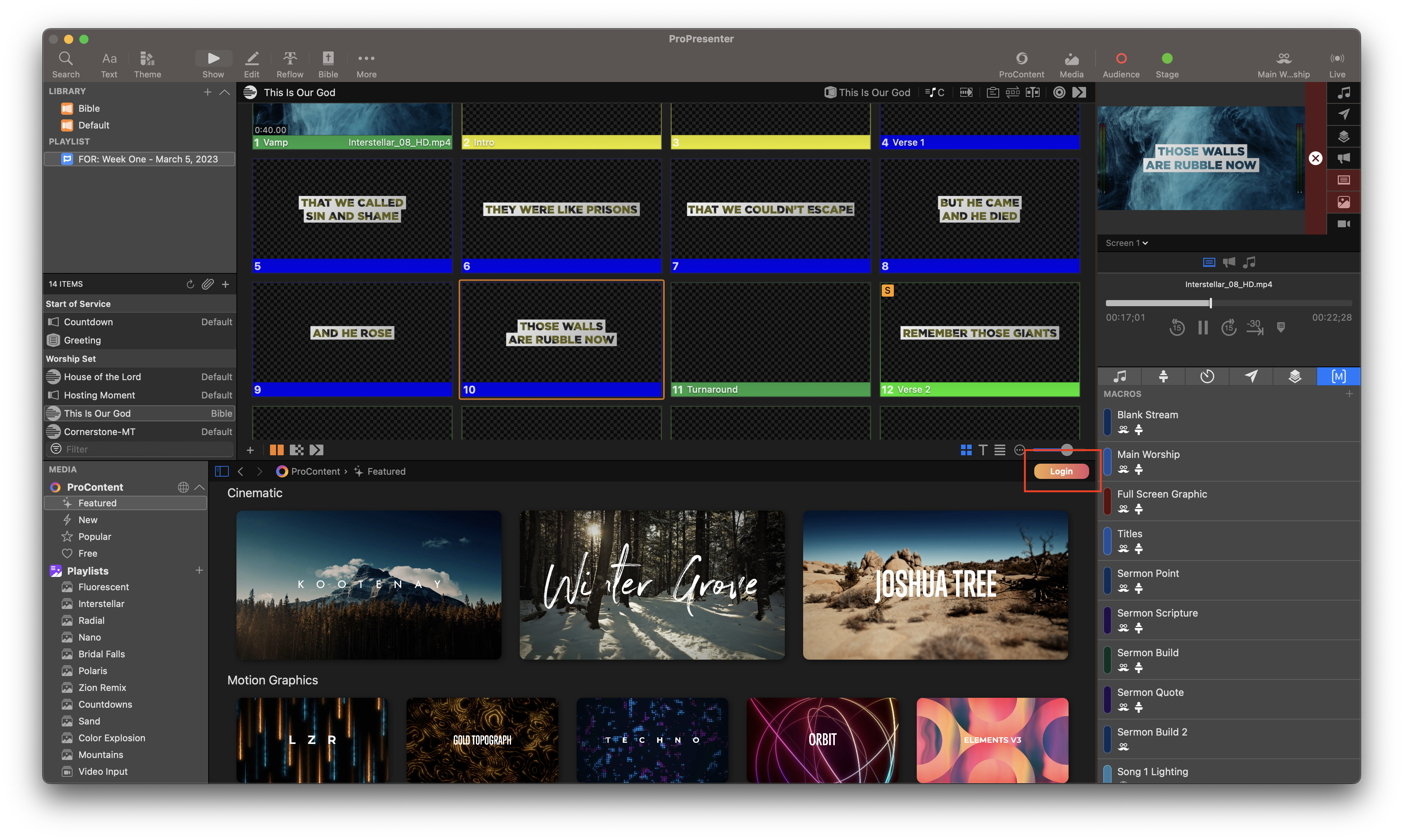 When you click the Login button in either location, you will be taken to this login screen where you can enter your email and password and click "Login"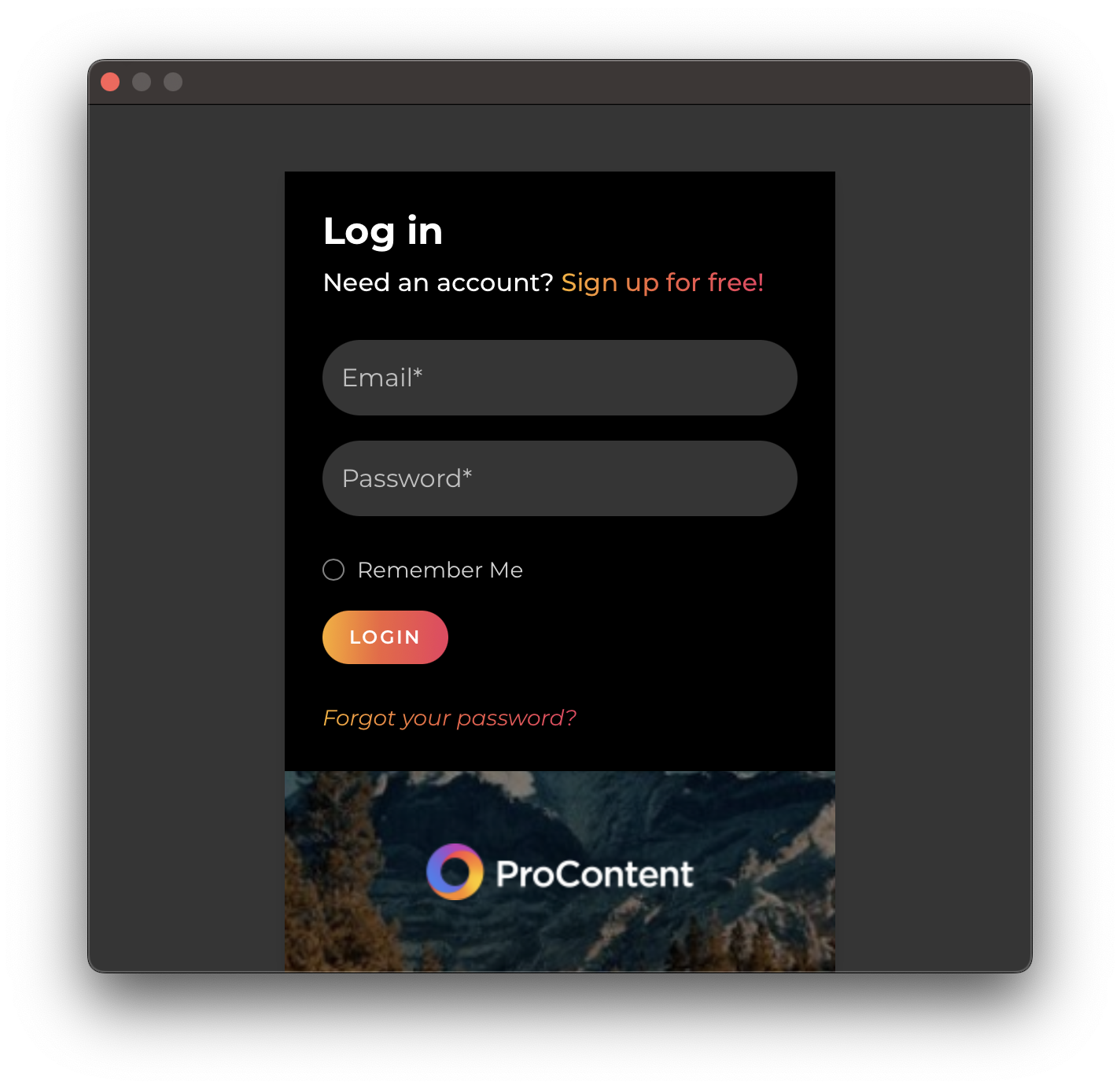 You can also click "Forgot Your Password" in this window and follow the instructions to have a link sent to your email to reset your password.
Once logged into ProContent, the ProContent tab of ProPresenter Preferences will show you logged in and also give you the option to click on "Manage Account" which will open a browser window and allow you to log in and make changes to your account.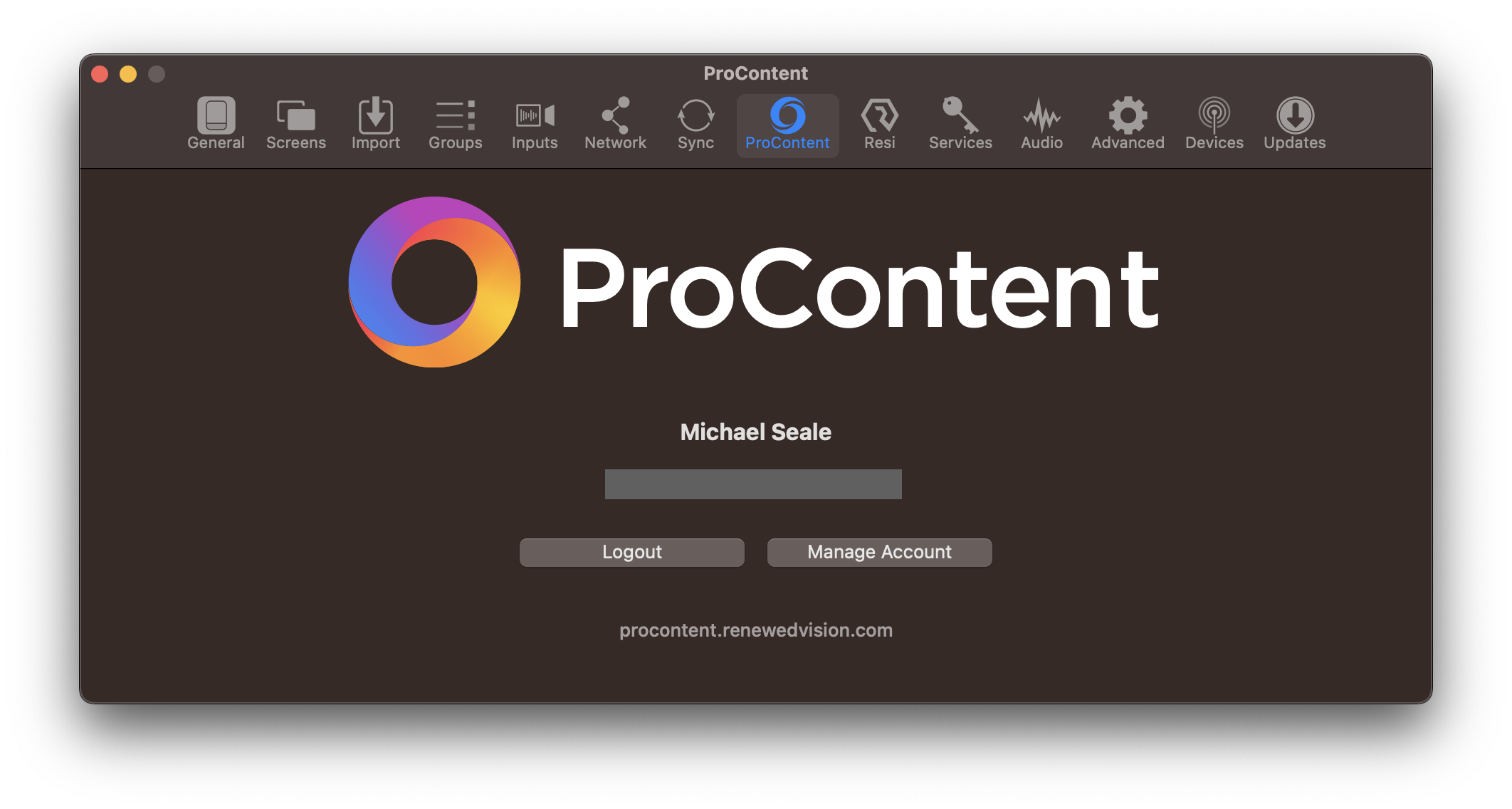 Accessing ProContent Within ProPresenter
ProContent is available within the Media Bin of ProPresenter. You can access it by clicking on the ProContent button in the toolbar of ProPresenter. If the Media Bin is not open at all when you click this button, the Media Bin will open to ProContent. If the Media Bin is open at the time you click ProContent in the toolbar, but you are in a media playlist, it will navigate you to ProContent within the Media Bin. If ProContent is open in the Media Bin when the button is pushed, the entire Media Bin closes.
Browsing for ProContent Within ProPresenter
When ProContent is open inside the ProPresenter Media Bin, you will see four options under ProContent: Featured, New, Popular, and Free.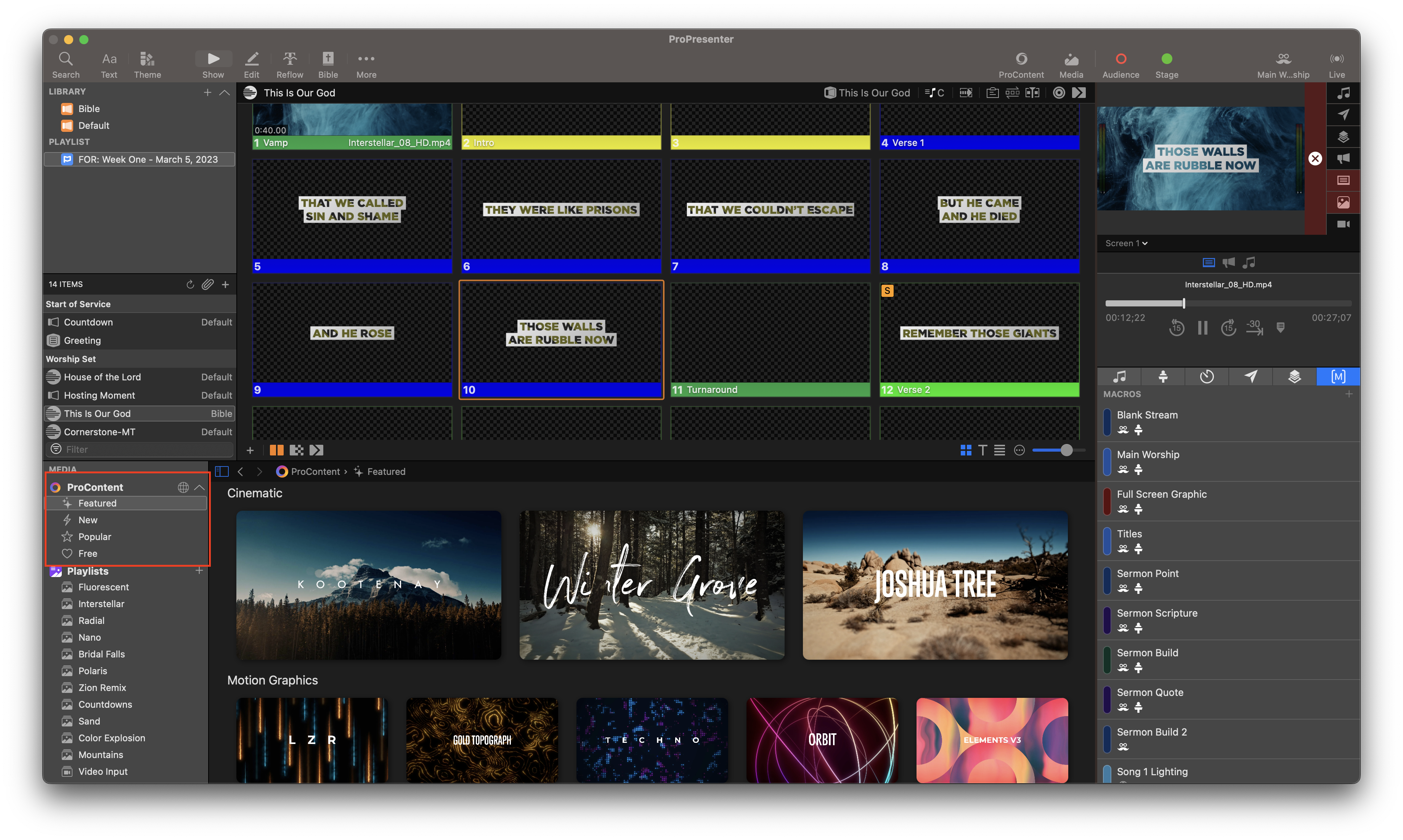 In each section you can scroll to the left and right via the arrows that you can see in the screenshot below. These arrows appear when you scroll over each row. If you are on a Mac with a trackpad, you can use that to scroll left or right as well.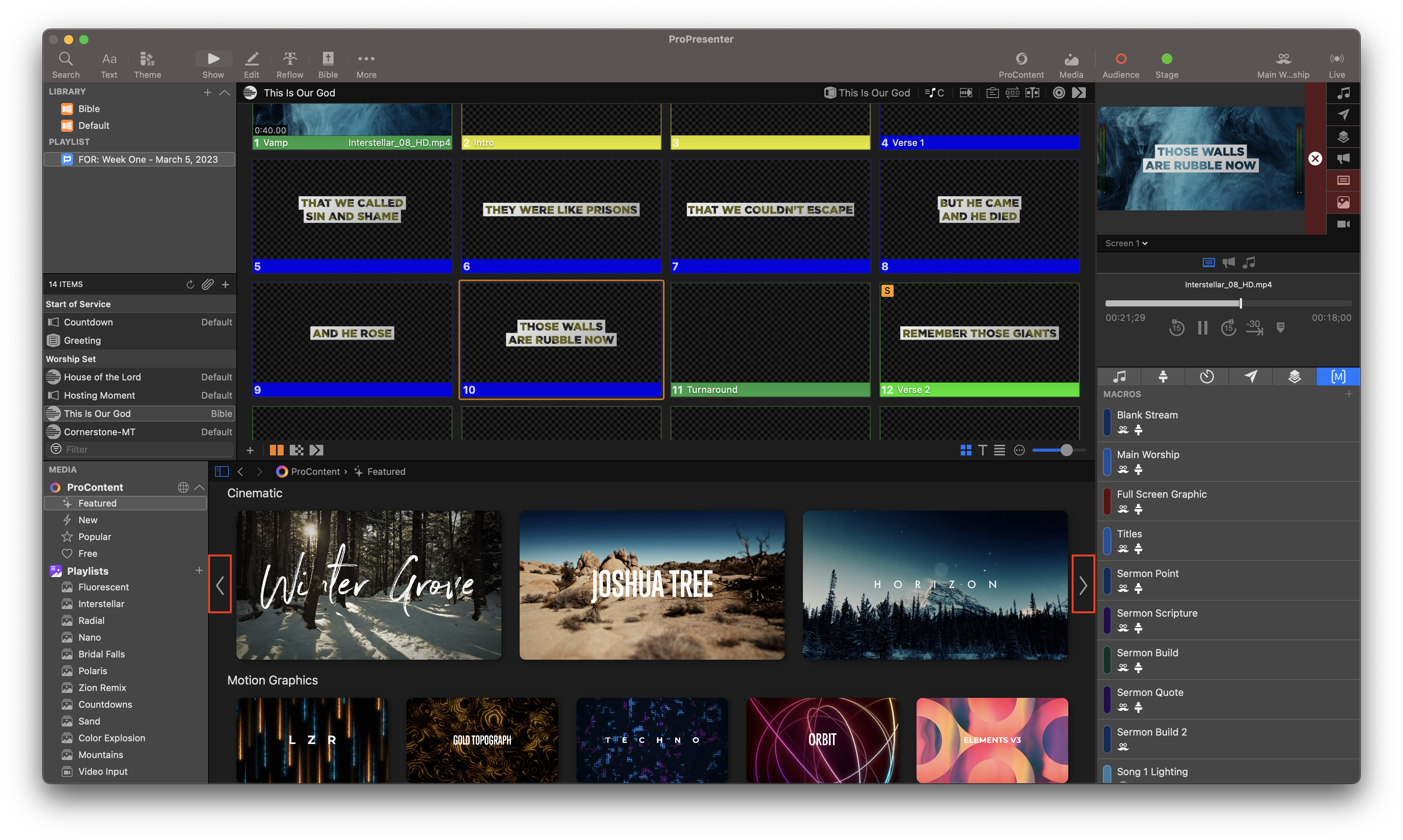 To browse the full ProContent Library including our Design Assets and ProPresenter Themes you can click the globe icon next to ProContent in the Media Bin to open the ProContent search page in a web browser.

Downloading ProContent Within ProPresenter
When browsing ProContent inside of ProPresenter you are able to download full motion graphic packs or individual motion graphic or countdown files directly into your Media Bin. When browsing the Featured, New, Popular, or Free sections of ProContent you will see motion graphics with names across the thumbnail. This is a full motion graphic pack and you're able to hover over that thumbnail to see a preview of what each loop in that pack looks like. If you like what you see and are ready to download you can click the download button within that thumbnail. This will download all motion graphics from that pack to your media bin (this does not include the countdown or stills that is also part of this pack).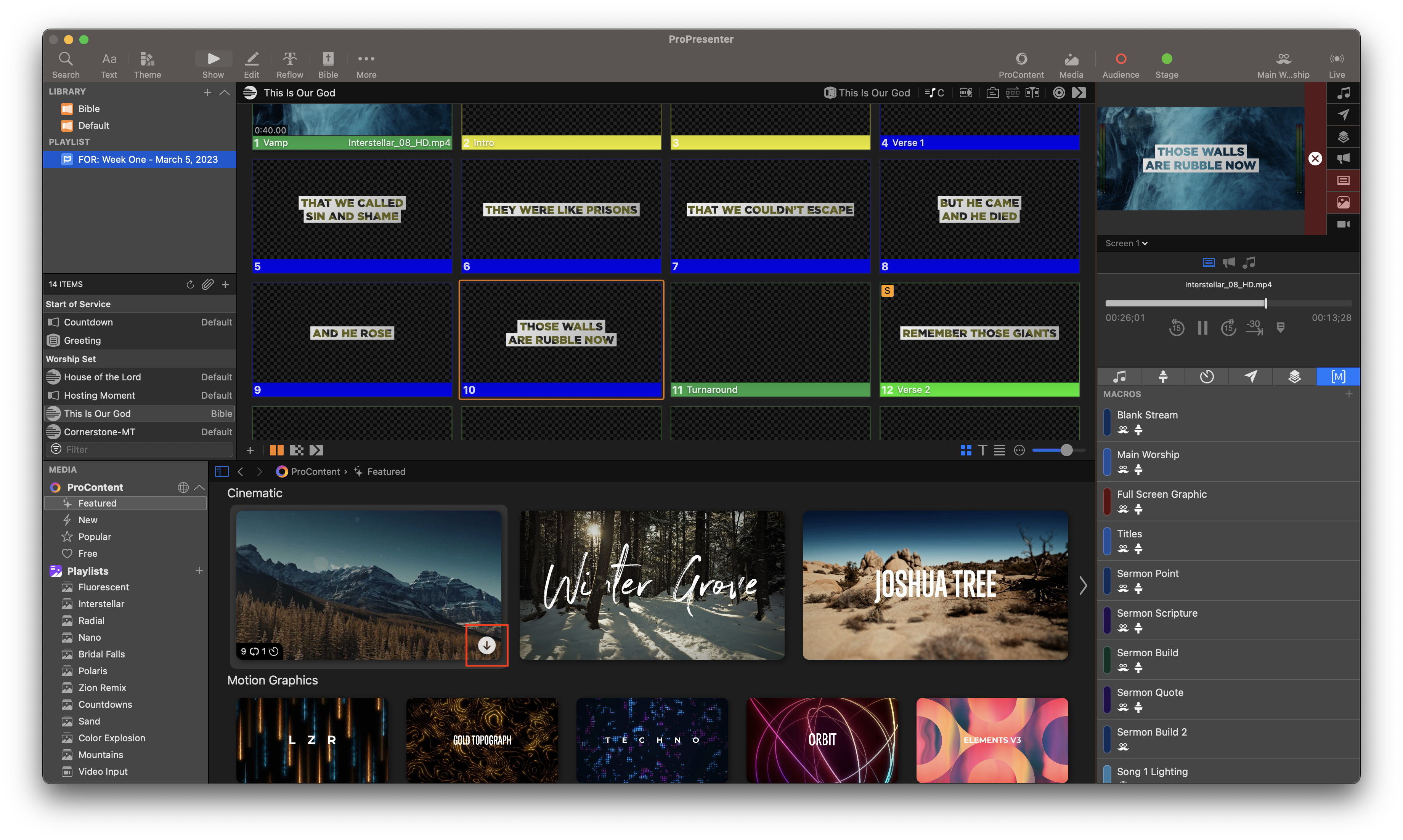 Once you click this button, you will be prompted to choose a few options for your import. You can choose the resolution you wish to download and what Media Bin Playlist you wish to download it to (you can also choose "Add New Playlist" in this dropdown to create a new Media Bin Playlist to download to). For the resolution you can choose between 4K (3840x2160), HD (1920x1080), Triple Wide (3840x720), or Double Wide (2560x720).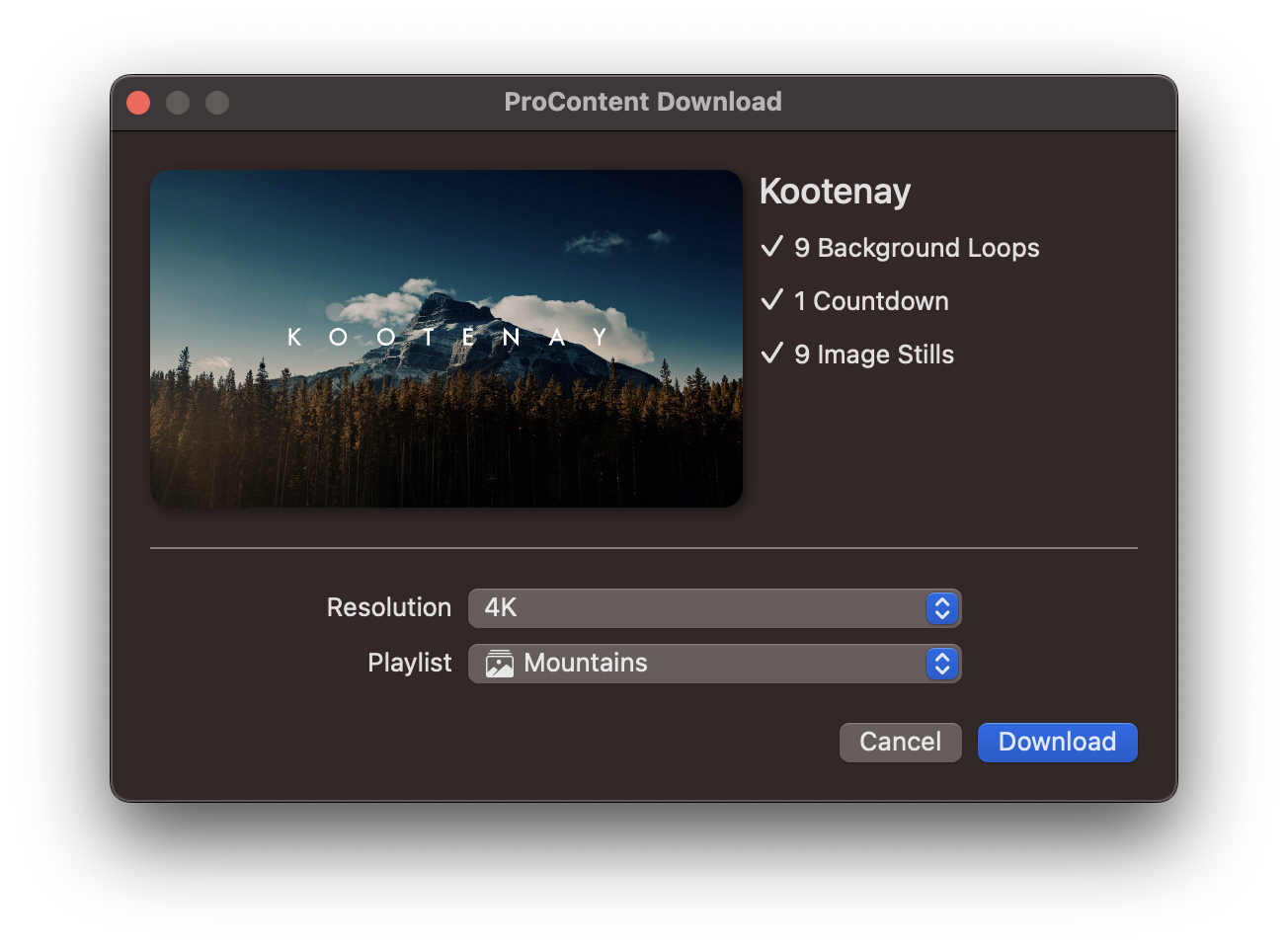 You can also click on the thumbnail for each pack to see all the loops, countdowns, and stills included and when you hover over each thumbnail inside of the pack you can choose to download any of these files you wish to and will receive the same download options pictured in the screenshot above.