ProPresenter Remote requires iOS 8.0 or later for iPhone (4s and above), iPod Touch, or iPad, ProPresenter 4 or later, and a Wi-Fi connection shared between your computer and your iPhone.  We also offer an Android app that requires ProPresenter 6 and Android 4.1 and up.  
More features are enabled with each version of ProPresenter as shown below:
ProPresenter 4

:  Navigate the library and playlists in list form and control presentations

ProPresenter 5:

  Pro4 features plus adds in the grid view, remote screen, Twitter moderation and triggering, and producer functions (messages, timers, stage display control, etc.)

ProPresenter 6:

  Pro5 features plus Instagram*, Audio Bin, and Telestrator as an in-app purchase
You need to purchase and download the ProPresenter Remote App from Apple's App store (in iTunes or from the device you wish to run it on). Click here to see/purchase it on iTunes. If you wish to purchase and download the App for Android, you can do this from the Google Play Store here.
Once you have the app downloaded, follow the directions below to get things setup.  
Step 1: Enable the server in ProPresenter
You will first want to make sure you are connected to the same wireless network between your mobile device and the machine running ProPresenter.  Once you've done this, launch ProPresenter and select "Preferences" from the "ProPresenter" menu.  Select Network from the tab at the top of the window that appears.  In this tab, you will see the options for the ProPresenter Remote server. Here you can enable/disable the server, which will toggle on/off your ability to connect to the ProPresenter machine. You can set separate passwords for controlling or observing the ProPresenter application from this screen.

Step 2: Launch the ProPresenter Remote on your iPhone/iPod Touch
The screen that appears will show you all machines running the ProPresenter Remote Server. Select the desired machine from this list, enter the appropriate password for observing or controlling.
Clicking any presentation will show you the slides from that presentation.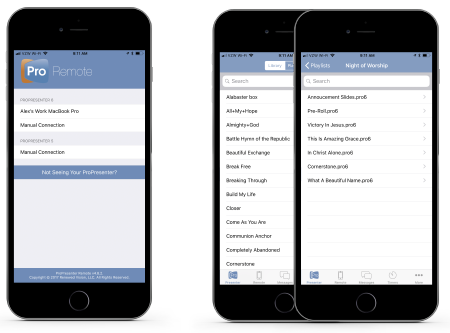 If you are in "Observe" mode, the application will follow along with the slides as they are advanced by the operator on the ProPresenter machine. If you are in a "Control" mode, then selecting a slide of any presentation will cause ProPresenter to switch to that presentation and select that slide immediately.
The Previous and Next buttons will accomplish similar behavior. You can also back-up to select a different presentation at any time.
To display the "clear" options (clear background, clear text, etc), shake your device and select the option you wish.  This option is only available in Control mode.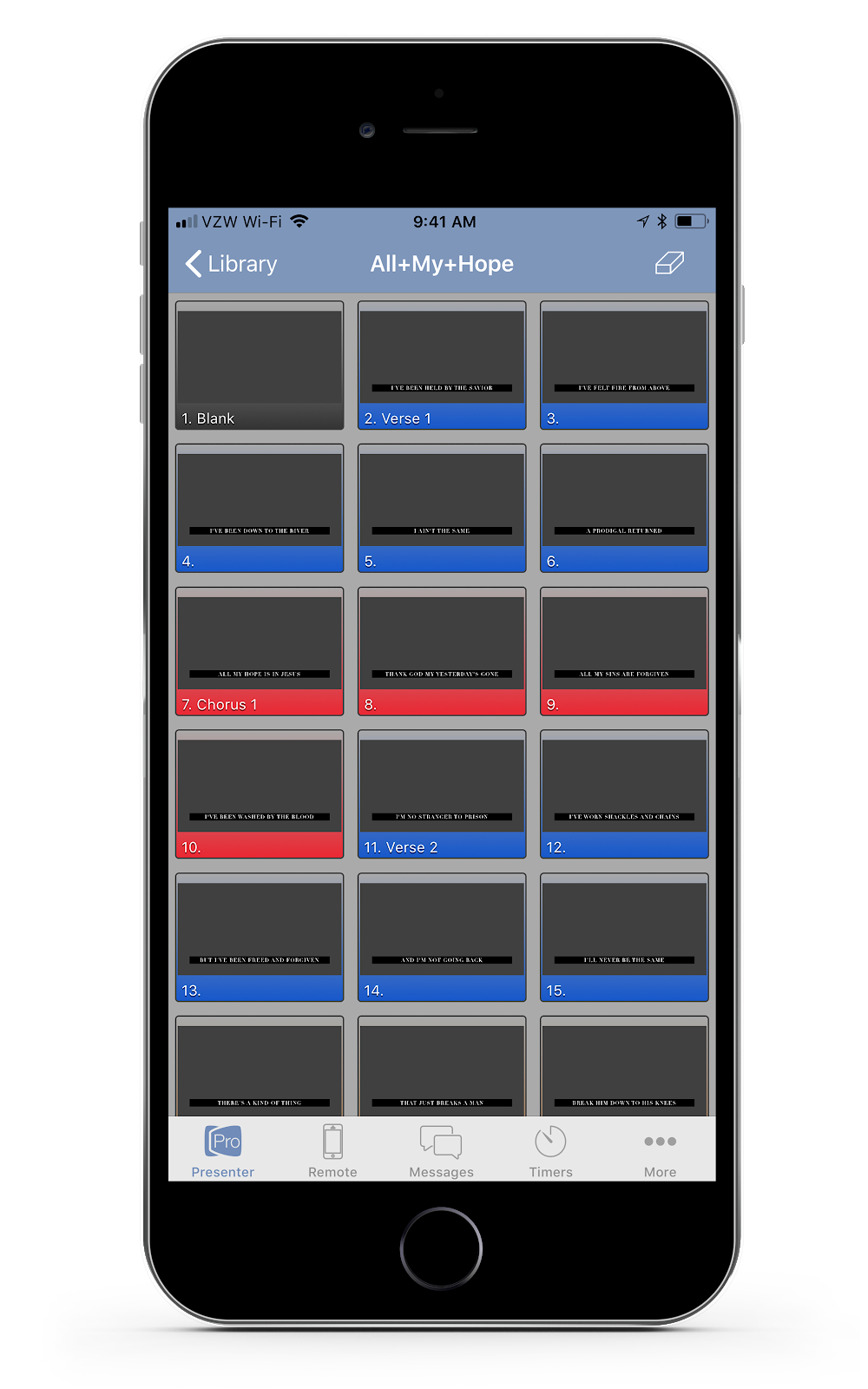 Possible Firewall issues
If you have the OS X Firewall enabled or are having issues making the connection between your iPhone and your computer, try these steps.
Step 1: In System Preferences -> Security & Privacy -> Firewall, choose "Firewall Options".  
Step 2: Click the "+" button to add ProPresenter and choose "Allow incoming connections" for ProPresenter in the list. You may have to click "allow" in a prompt each time you start ProPresenter.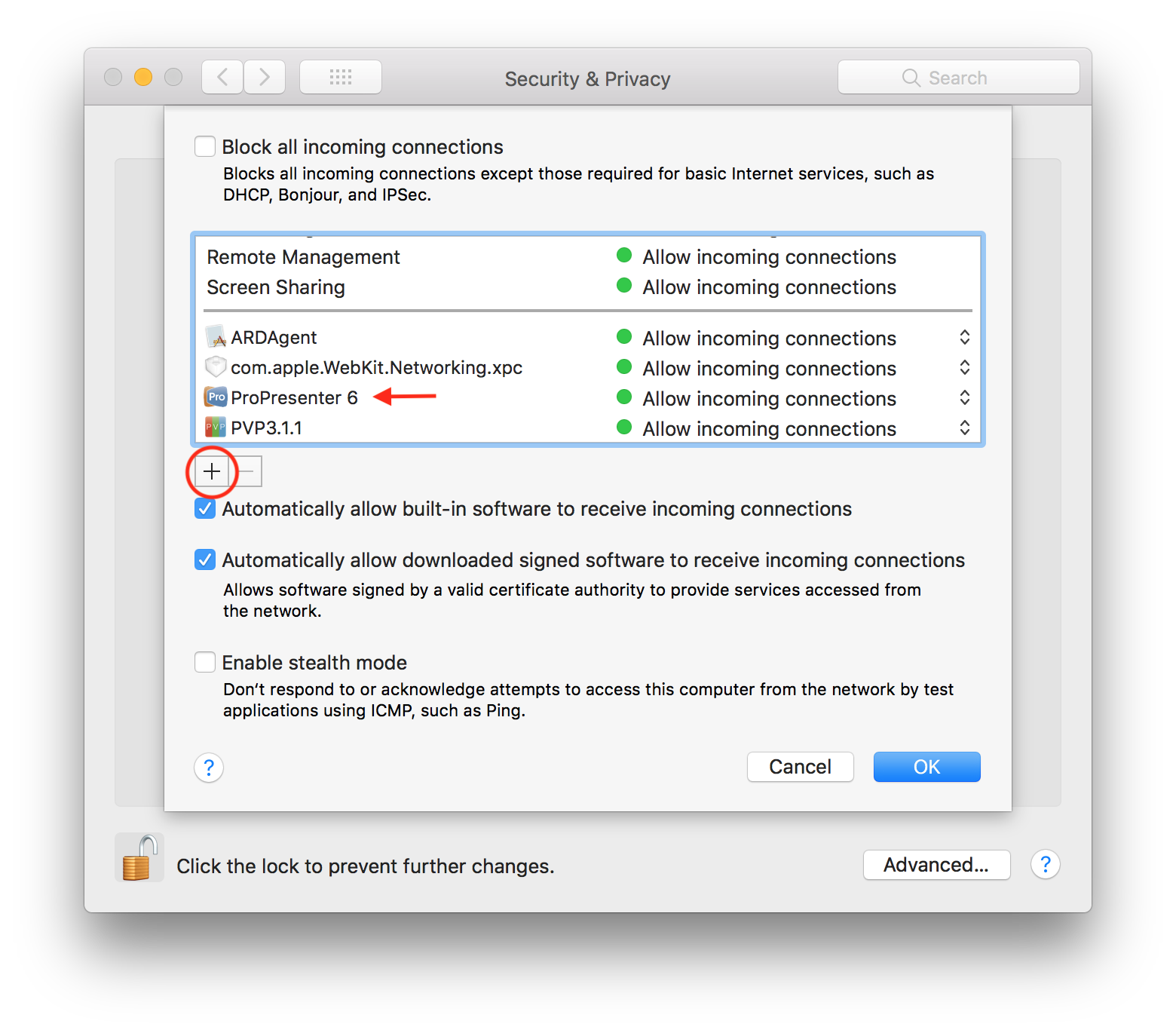 If you continue to have issues here, you can also look to create an ad hoc network between your computer and device to see if something in your network connection specifically is causing the issue.
(*The Instagram feature listed above is no longer available in ProPresenter and ProRemote due to Facebook no longer allowing third party applications, such as ProPresenter,  to do queries and display user feeds. See the full statement here.)