When the Stage Display was first introduced in ProPresenter 4, it was able to show the current and next slide, slide notes for each slide, countdown timers, and a message. In ProPresenter 5, we added the ability to show PDF files and a few other small changes, including the ability to only show things on the Stage Display and not to your audience. In ProPresenter 6, we added Slide video to the Stage Display and the ability to assign Stage Display cues to slides. In our new version of ProPresenter, we've taken it to new heights.
Below is a screenshot of what the Stage Editor looks like. To access this window, either select the Screens-Edit Layouts option in the menu bar or press cmd+4 (on Mac) or ctrl+4 (on Windows). You may notice that this looks very different than it did in ProPresenter 6. In fact, it looks similar to the Slide Editor inside of ProPresenter now as well!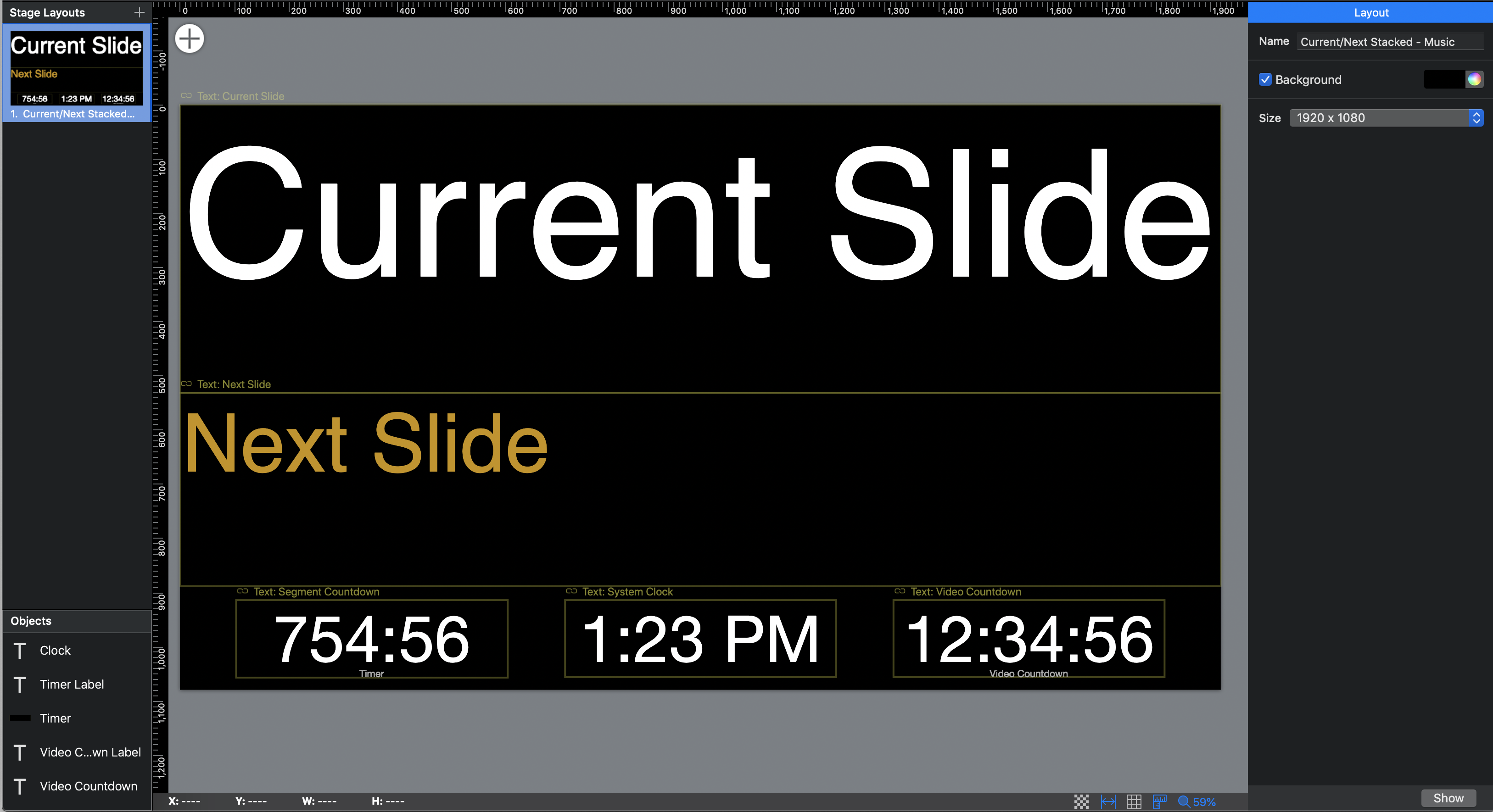 When you first open this window, you will see your stage layouts from ProPresenter 6 have populated on the left side (if you completed the migrate process at launch). If not, you will see one layout that we have pre-loaded (as it looks in the screenshot above). You can right-click on any layouts here and copy, paste, duplicate, delete, or rename them!
Creating a New Stage Display Layout
To create a new Stage layout, click the + icon next to the Stage Layouts heading. When you do this it will give you options of applying one of our pre-loaded Stage Layouts to start from or adding a blank one.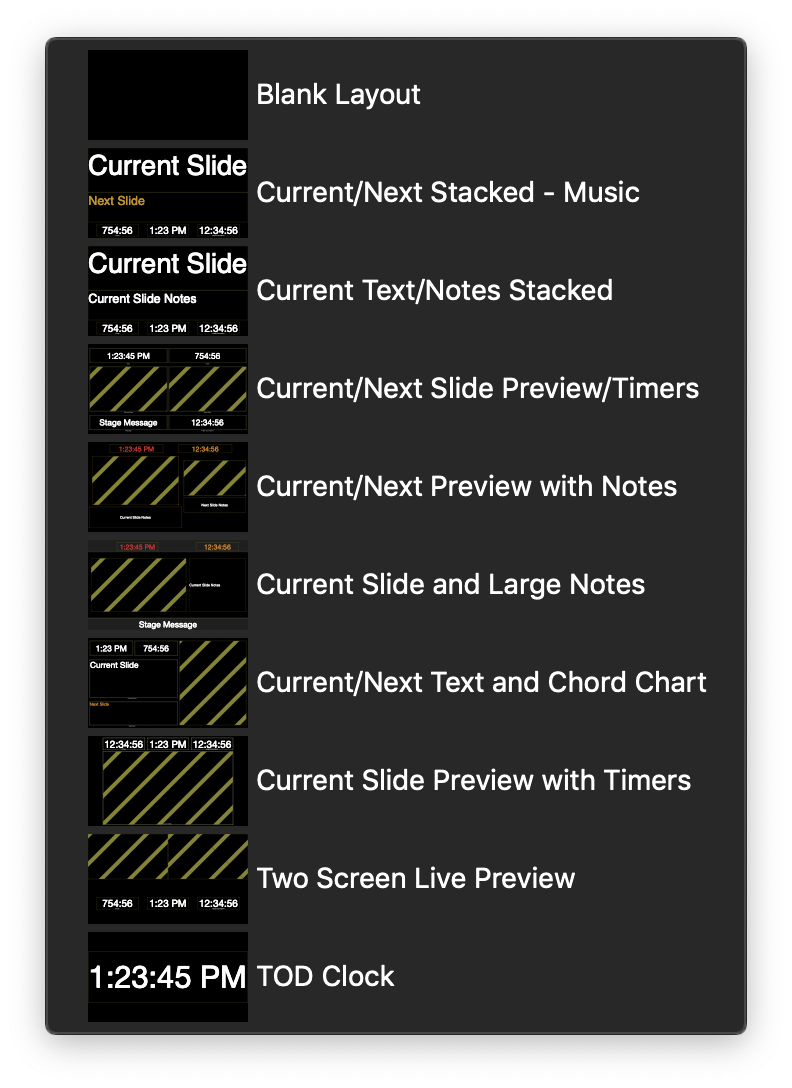 You can use our pre-loaded layouts as is or you can use them as a starting point and add/delete items, rearrange them, or change their attributes. Or, as I mentioned before, you can create a blank layout. If you are starting from blank or using the pre-loaded layouts as a starting point, you will likely want to add different items. To do this, click the large + icon in the upper left of the window.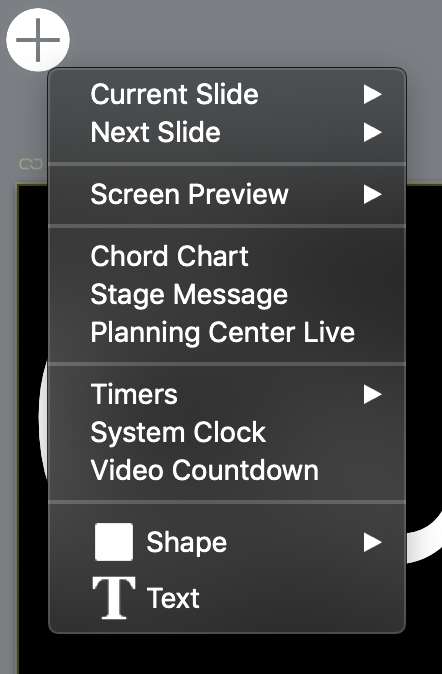 The first options relate to the current and next slide content. You can add text-only of either, a preview image of the slide, or the slide notes you entered in Edit Mode for that slide. You can also add a "Screen Preview". This "Screen Preview" can be of any of your audience or stage screens from the screen configuration window. This replaces and expands on the idea of the "live slide" feature you may have used previously in ProPresenter 6.
Next, you can add a Chord Chart (that you add to slides inside of Edit Mode), the Stage Display Message (that you can fire from the toolbar with the Stage icon), the Planning Center Live timer, any of your clocks and timers that have been created, the system clock, and/or a video countdown timer to your Stage Display layout much like you could in previous versions.
The last two options that you can add here are brand new to this version of ProPresenter. You can add shapes or text boxes to any of your stage display layouts. One way this will be extremely helpful is if you wish to label different sections of the layout!
When you add an item, it will add to the center of the layout, just as it would in the presentation "Edit Mode". You can then adjust the size and position by dragging or using the "Shape" tab on the right side.
Editing Text Appearance
One of the great features of this new version of ProPresenter is that you have full edit capabilities over the appearance of any text on your Stage Display layouts. So, when you select a shape on your stage layout that contains text, you will have a shape and text tab appear on the right side of the editor. If you open the text tab, you will notice it looks identical to the text tab in the Edit Mode of presentations.
From this window you can change the font, the font style, font size, attributes, color scaling options, alignment, as well as add a stroke or shadow, adjust your lines, apply list attributes, or change what text is linked to the box.
Sending Your Layouts to Your Screens
Once you have set a stage layout, you can actually go ahead and assign it to one of your stage screens directly from this window. To do this, click on the "Show" button in the bottom right of the window and choose which of your Stage Screens to apply this layout. To learn more about assigning your screens, go here.

Another way you can determine what stage layouts go to which screen is by adding an Action to a particular slide. You can do this by right-clicking on a slide, hover on "Add Action", and choose "Stage Display Layout". A small window will pop up with an arrow pointing to the slide you are applying this action to. From here you will see your Stage Display screens listed with a drop-down menu next to each, where you can choose your desired layout.
The last option here relates to where you want this (and subsequent if you choose) slides to send. You can select "Stage Only" which will mean that the last thing sent to your audience screens will stay there even as you click through this (and subsequent if you choose) slide(s). When you want to change this back you would add an action to the first slide you want to be sent back to the audience screens and choose "Stage + Audience".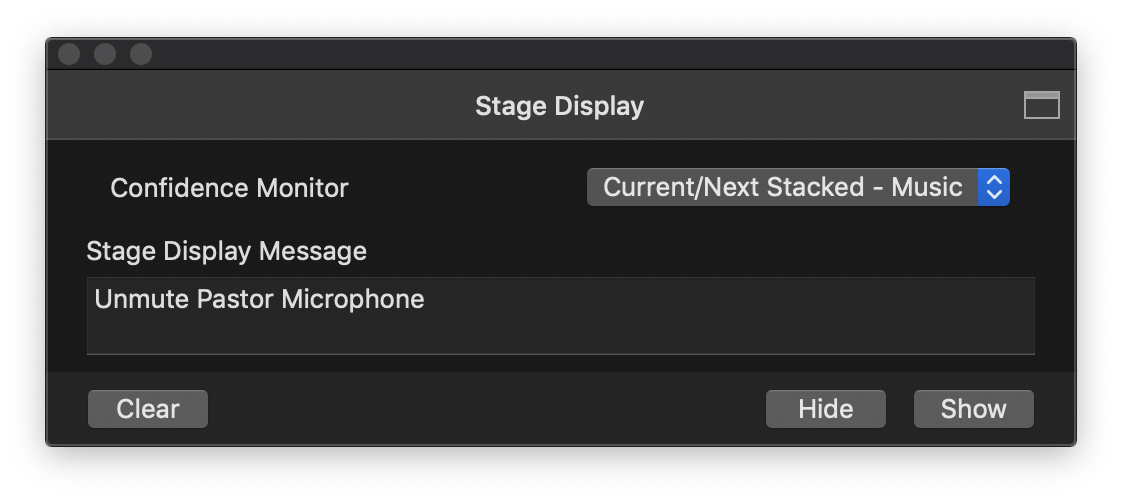 Note: Stage Display Layout actions will stay applied until you manually change the Stage Display Layout in the Layouts Editor or another slide with a different Stage Display Layout Action is selected.