One of the most requested new features has become a reality in ProPresenter, a separate playback layer for announcements!
What is the Announcement Layer?
The Announcement Layer gives you the ability to have a second presentation running simultaneously with your normal presentations for your service or show! For example, if you have screens in your lobby that you want to send an announcement loop or other content to during a service or show, you can use the announcement layer to do that from the same computer!
How Can I Set This Up?
Setting up a presentation to be an "announcement presentation" is as quick as pressing a button. You will notice in the Presentation Header that there is an icon that looks like a target.

If you click on this button, you will see three options. The first is "Presentation" and is what all presentations have selected by default. The second is "Announcements". If you choose this, that icon will turn green and this presentation will now playback on the Announcement Layer.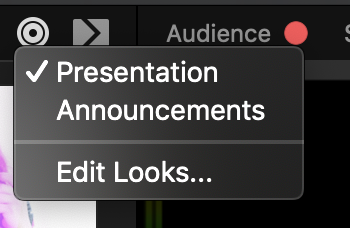 Once you have that set up that icon will turn green, denoting it as an Announcements presentation.

Now that you have the Presentation assigned to the Announcement Layer, you'll need to set it to show up on the appropriate Screen. Go to the Screens Menu in the menubar and choose "Edit Looks". This will bring up the following window (this window will show all Screens currently available):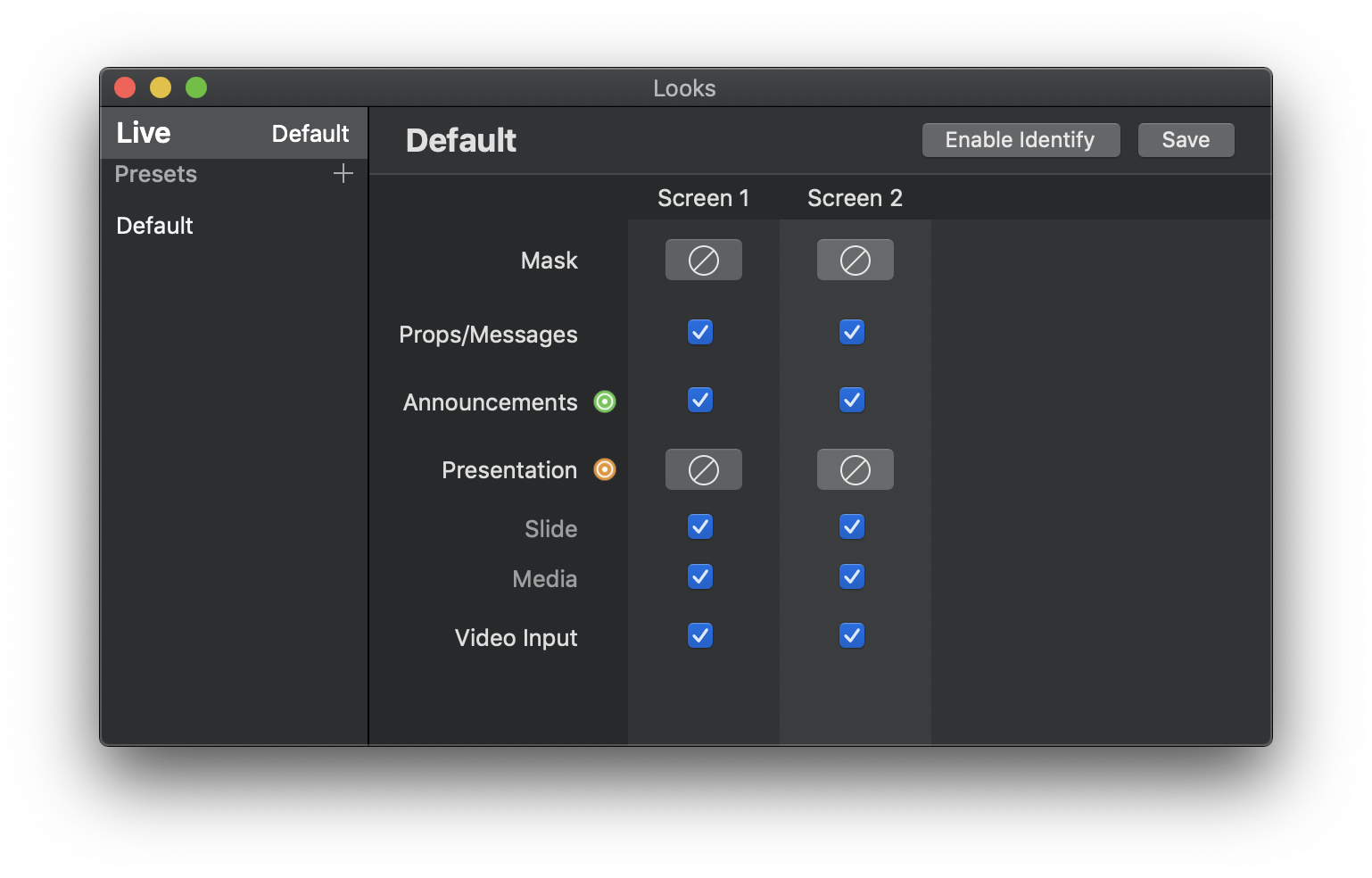 From this window, you would make sure that "Announcements" is checked on the appropriate screen and that nothing underneath that is checked (this truly does layer, so if you had the Announcement Layer turned on and were sending just text to it, the main presentation would also show if the other items were checked). In our example, I have made "Screen 2" the screen we are sending the Announcement Layer to.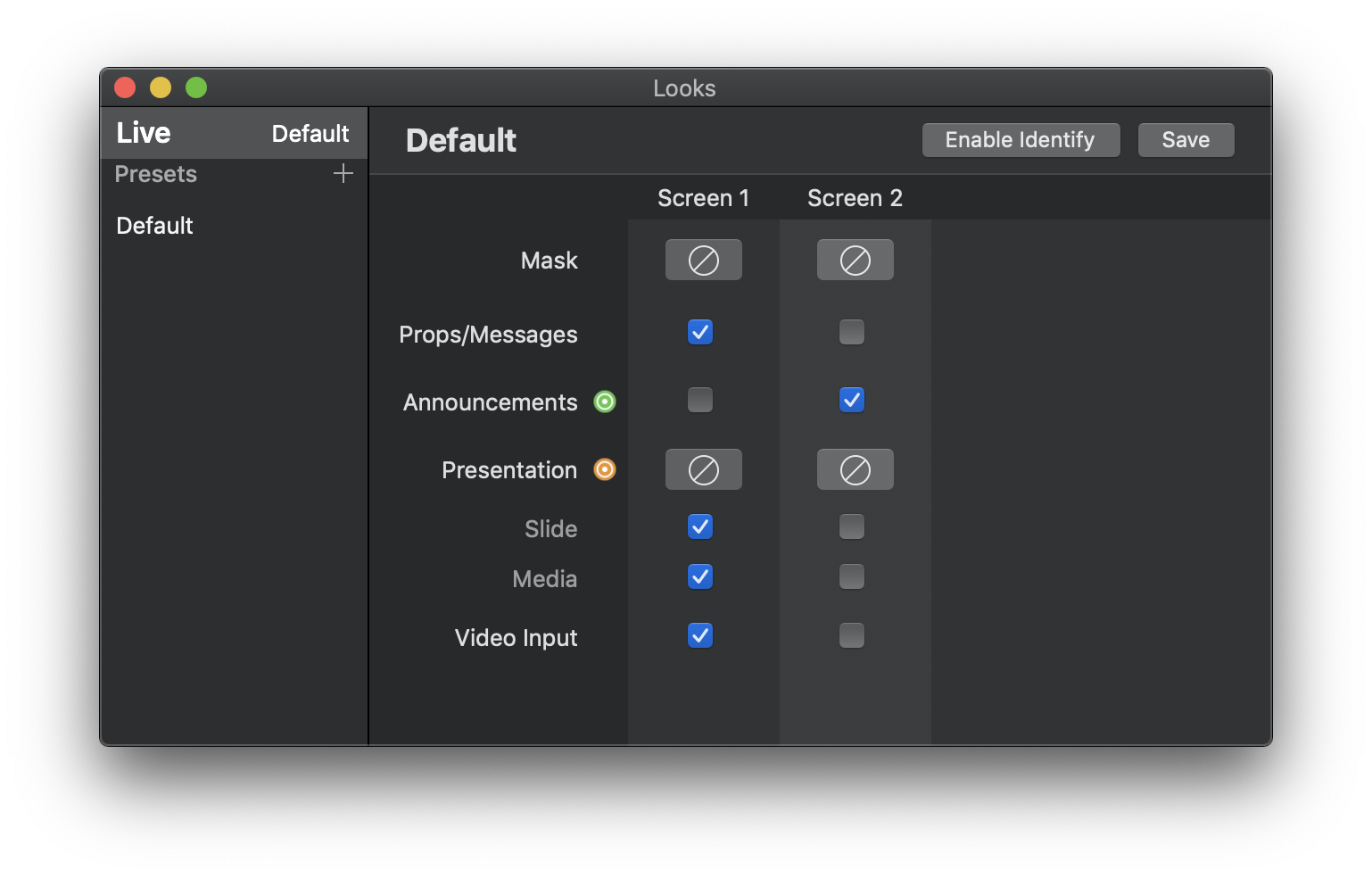 How do I run a Presentation to the Announcement Layer and a standard Presentation at the same time?
To make the Announcement Layer run continuously while you are running the rest of your Presentations, set it up with Go To Next Timers with the last slide having the box to "Loop to Beginning" checked.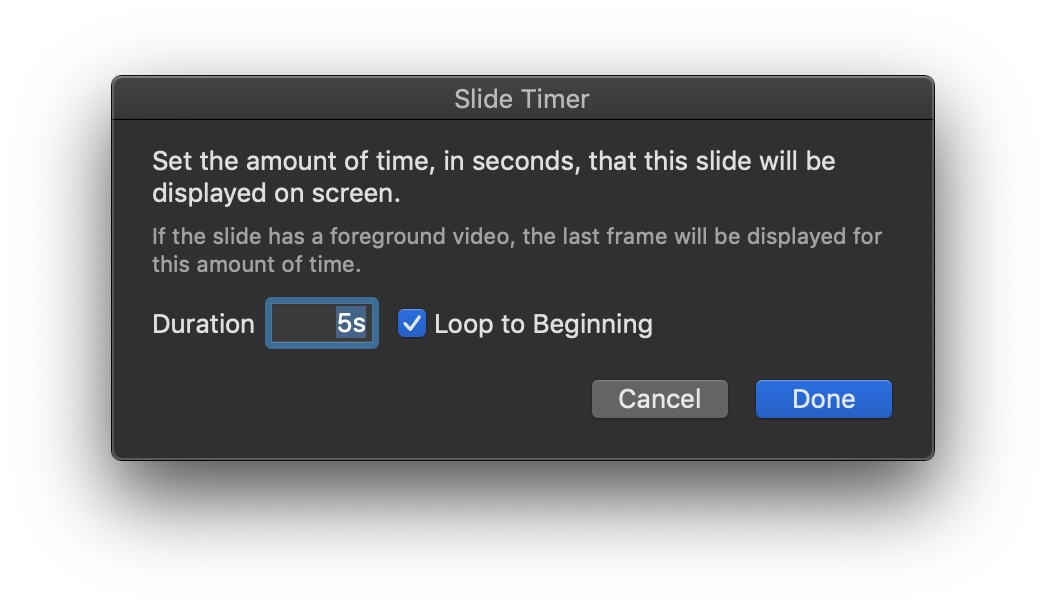 Then, you can start that Presentation targeted to the Announcement Layer and then click on any other Presentation (that is set to send to the presentation layer) and that will send to your other (audience facing) screens while not affecting the Announcement Layer. You can clear just the Announcement Layer by clicking on the megaphone icon in the preview window area.