Grassvalley AMP (Advanced Media Protocol) allows a video switcher to control ProPresenter. We only support a limited number of controls via AMP, but it gives you basic control over the content of a playlist in the Media Bin.
Click the + to add the AMP device. You will see the settings window after selecting it from the list.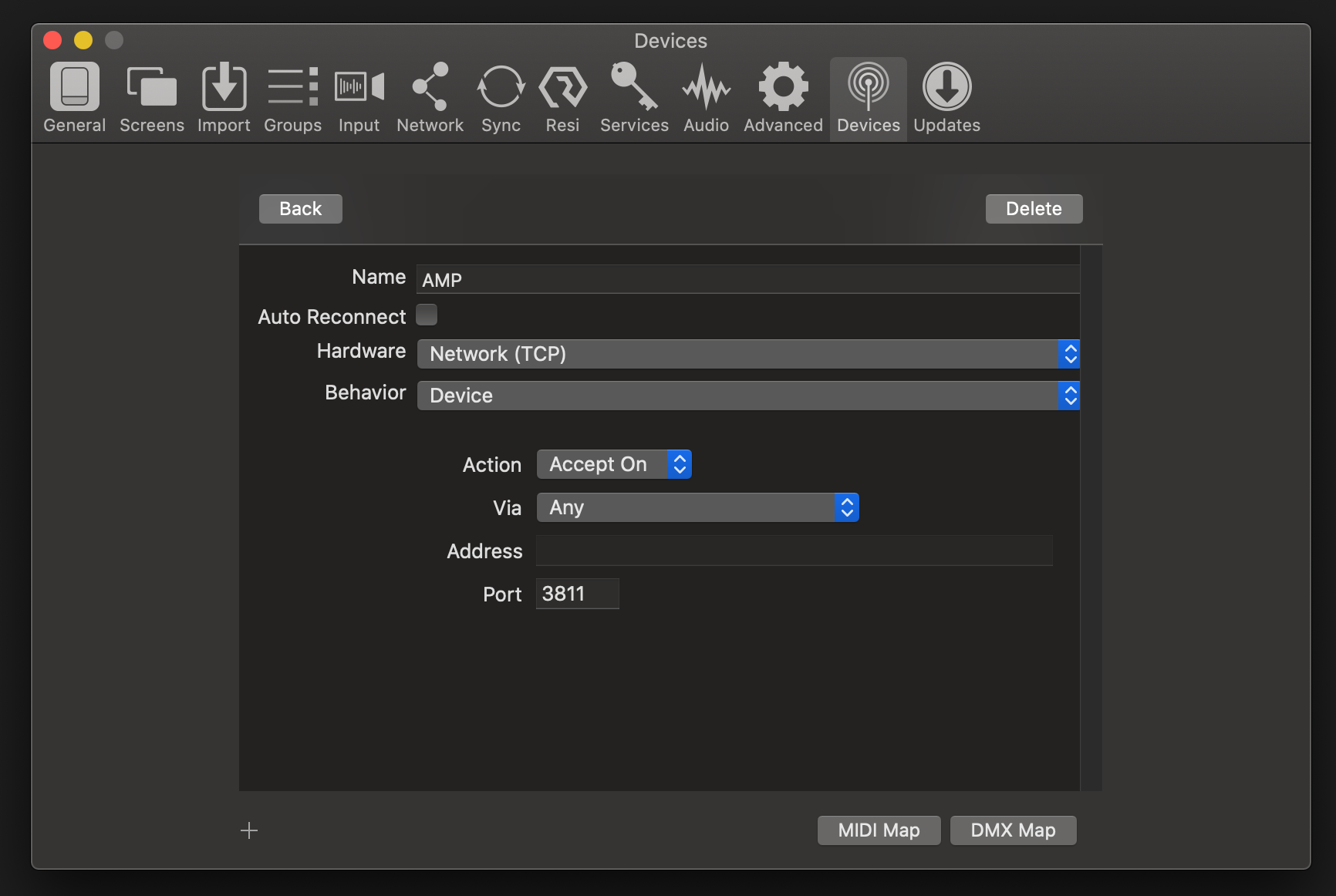 Depending on your settings and which switcher you have, you may need to change the Hardware to TCP, UDP, or Serial. You can likely leave all the other settings in their default settings. Click the Back button and then click Connect to enable AMP. Once your connection is successful, you will see a green bar to the left and the button will change to Disconnect. You cannot make changes to the settings while the device is connected.


ProPresenter 7 supports the following AMP commands:
Play
Stop
Rewind
Fast Forward
Trigger Media
Move Playhead
Get Transport State
Get Media List
Get Media Cue
AMP supports media file names up to 32 characters, although this may vary depending on your controller.
In order to control media within ProPresenter you will need to specify which media playlist you want to use. AMP is only able to control a single media bin playlist. The AMP protocol itself specifies support for up to 20 folders (playlists) with 20 clips each, however, we only support sending a single playlist. You may still have to keep your playlist to 20 clips or fewer.
Right-click on the playlist name and click Select for Communications. When this option is selected, you will see a check mark next to the playlist name.

When you load the Media List you will see all of the clip names in the order they are sorted in the media bin playlist. You can then select a clip to load it and it will immediately begin playing when triggered.