This feature requires a minimum of ProPresenter7.7 (so an active ProPresenter+ as of 9/13/2021)
Planning Center is an integral part of a lot of church's weekly workflow and ProPresenter can do a few things with the Planning Center Services Application.
Getting Started
Before doing anything, you will need to go to the General tab of ProPresenter preferences and make sure the box for "Show House of Worship Integrations" is checked. Once you've verified this, you will go to the services tab of ProPresenter Preferences and log into your Planning Center account from there.
Once you are logged in, your window should look like this: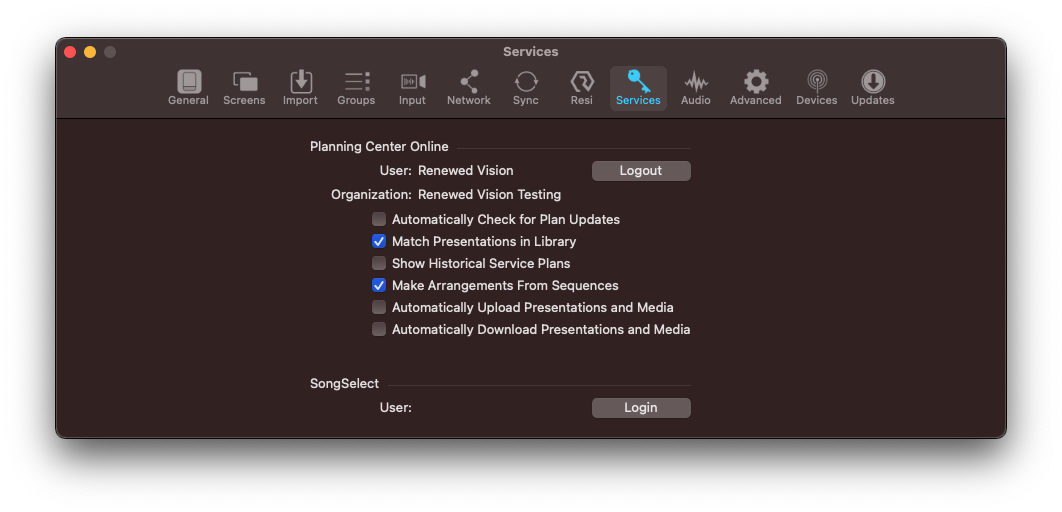 The options here are explained below, you will check the ones you want to use:
-Automatically Check for Plan Updates:with this option checked, ProPresenter will periodically run a check with Planning Center Services to see if any changes were made to the plan your playlist was created from. If a change was made, your playlist will reflect this change. You can also manually perform this check if you want to control when those checks are.
-Match Presentations in Library: with this option checked, when you import a Planning Center Plan and ProPresenter creates a playlist from it, it will automatically match presentations of the same name that already exist in your library and place them in the playlist.
-Show Historical Service Plans: with this option checked, when you go to import a Planning Center service, past plans will also show in the list.
-Make Arrangements from Sequences: with this option checked, ProPresenter will take the sequence that was created in Planning Center and make a new ProPresenter arrangement for that sequence.
-Automatically Upload Presentations and Media: with this option checked, ProPresenter will automatically upload presentations or media items linked to the items in your Planning Center Playlist back to that item in the Planning Center Service.
-Automatically Download Presentations and Media: If this option is selected, ProPresenter will decide what to download based on what type of item it is. So, if it's a song item, ProPresenter will download the first ProPresenter presentation in the list of attachments and if it's a media item, it will download the first piece of media in the list of attachments.
Planning Center Playlists
To add a Planning Center Service as a ProPresenter Playlist, you will click the + button in the library/playlist section of the ProPresenter User Interface and choose "Planning Center Service"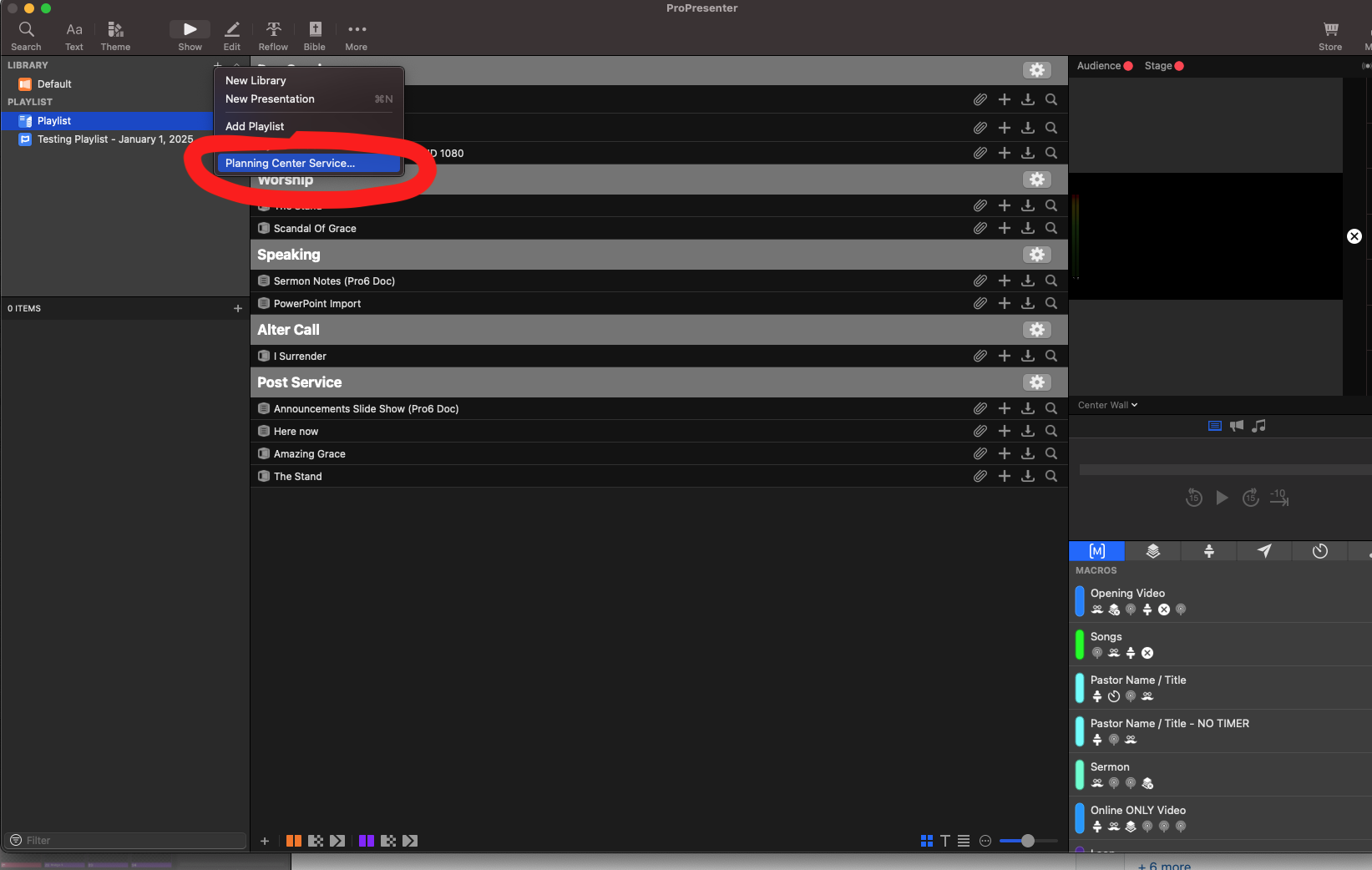 Once imported, if you do not have "Match Presentations in Library" checked OR if you don't have any of your items already in your library, the window will look like this: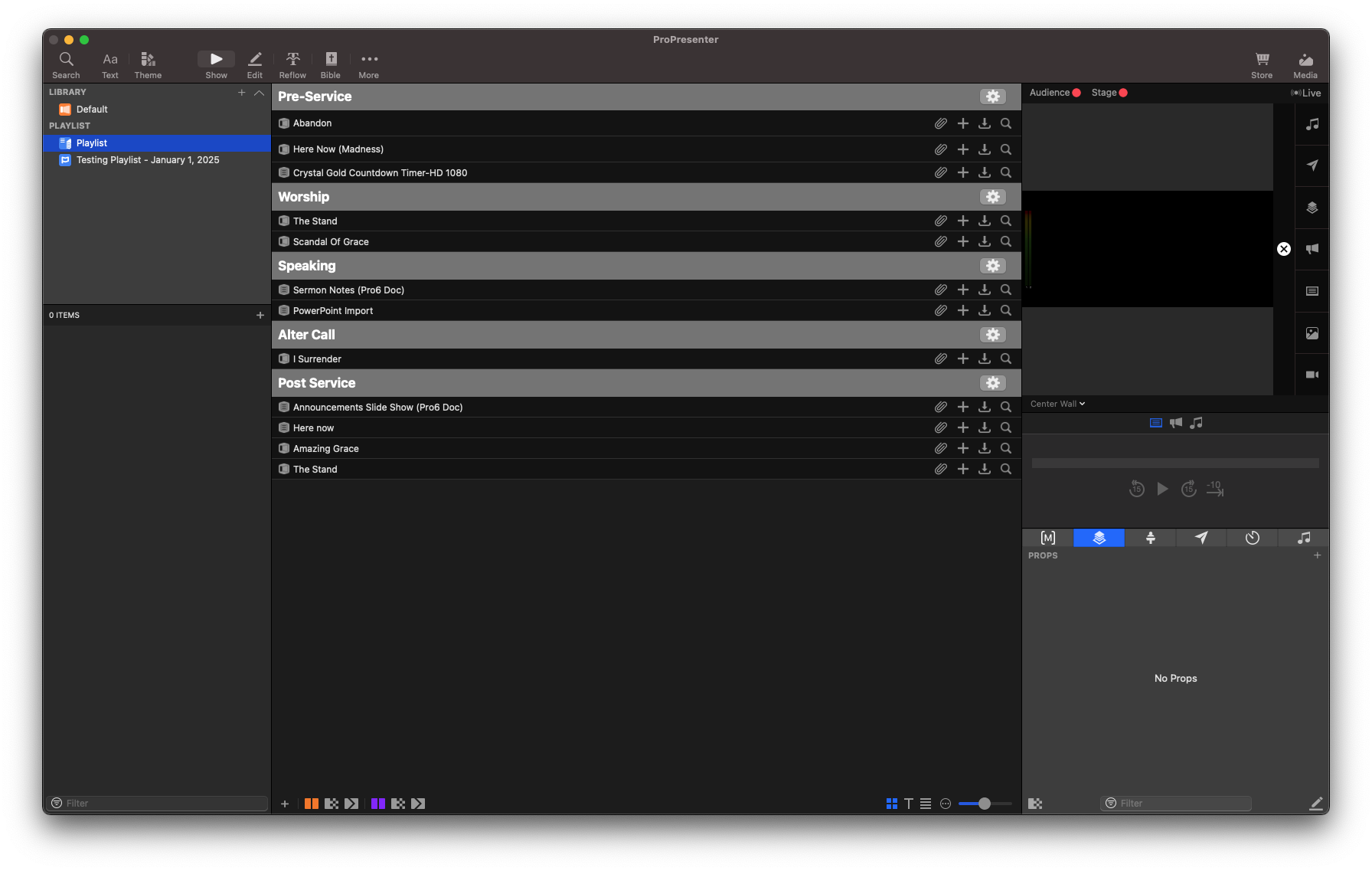 From this window, there are four different ways to link or add presentations or media elements to each item. You'll see these four options in the red box I've placed on the screenshot below. These four options (from left to right) are add an attachment from Planning Center, create a new presentation in ProPresenter, Import a file from your computer, or search ProPresenter to link an existing Presentation.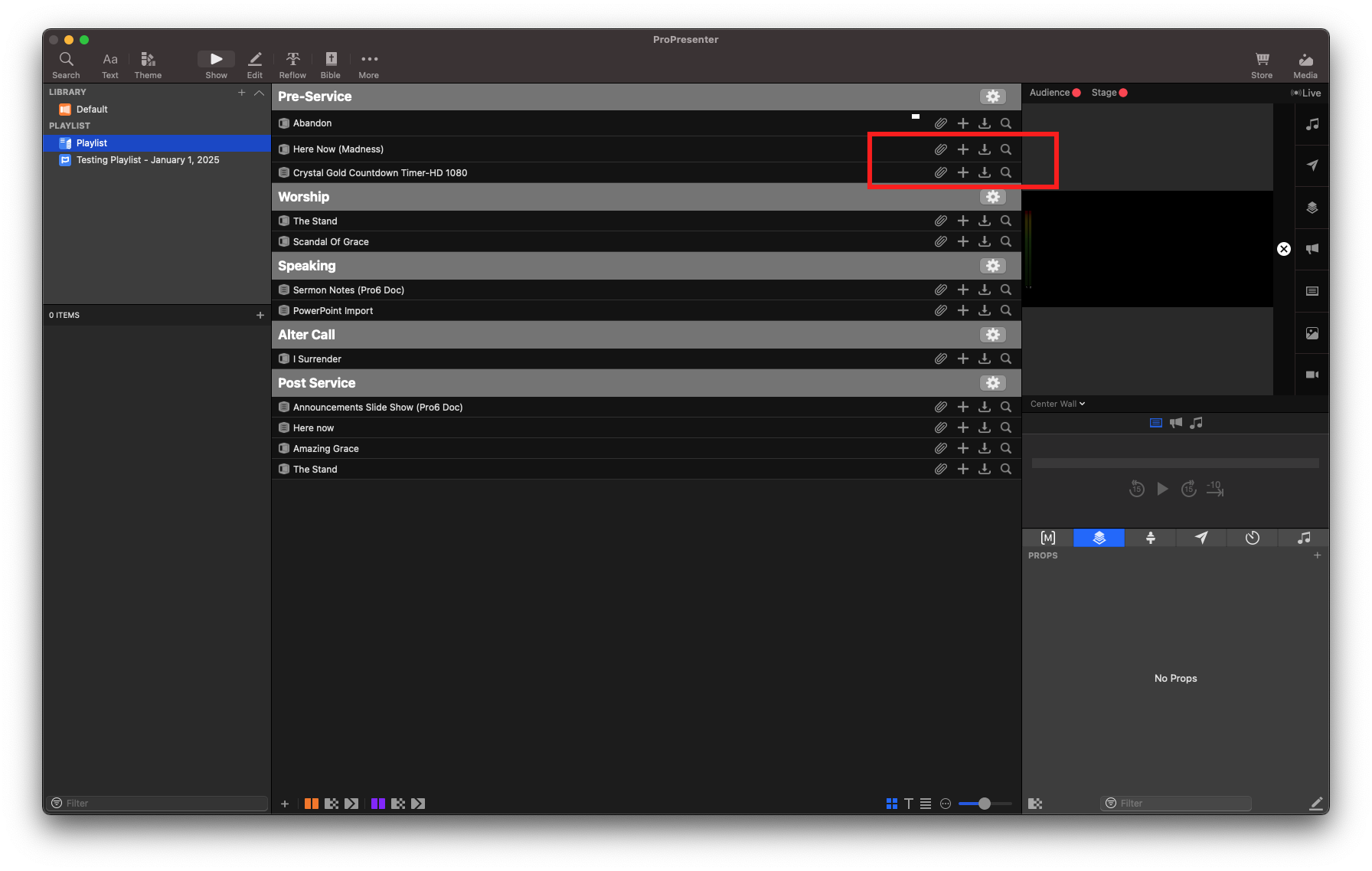 Add an attachment from Planning Center
If you click this option, the Planning Center Attachment Manager will pop up and will show you all files that are currently attached to that item in Planning Center. You can drag any of them onto your item to download that file.
Create a New Presentation in ProPresenter
If you choose this option, you will be prompted to create a new presentation inside of the software. You would go through the same process as any other presentation you are creating and once it is created, open the editor to begin making your slides!
Import a File from Your Computer
With this option, you can choose a file on your computer that you want to import into ProPresenter to be linked to that item. So, you can choose a ProPresenter presentation, text file (that will generate a new presentation), or media file.
Open Search to Link an Existing Presentation or Search SongSelect
When you open this option, the search window will appear and automatically enter the title of the item into the search. You can either search your existing library or SongSelect (if you are signed into your account). For SongSelect search, select the song you want to import and choose "Import and Link". For Library search, select the presentation you want to link and choose "link"
Working with Planning Center Playlists After Linking Items
After linking anything to an item in your Planning Center Playlist, you can remove it by clicking on the name in the item bar to the right and choosing "Unlink"
Another option you have is to "hide" items from the Planning Center Plan that you do not want to be a part of the ProPresenter playlist. To do this, simply right click (or ctrl+click on Mac) and choose "Hide Item". Once you do this, it will disappear from the playlist and at the bottom of the playlist it will say "1 Additional Hidden Item". To undo this, click that "1 Additional Item" area, hover on "Unhide Item" and choose the item you wish to unhide.