Since the release of ProPresenter 7.8, ProPresenter now has access to MultiTracks Search. This update is available for users who have an active ProPresenter+ plan as of 12.02.22. MultiTracks Search allows you to search and import songs from the MultiTracks.com database.
This requires an active subscription with MultiTracks.com, and using that this feature also requires an internet connection to check validity of MultiTrack's Licensing
In this article, we will cover MultiTracks Search, Chords, and Automations.
To start with this functionality, you need to have access to a MultiTracks.com account, with an active subscription. Those subscriptions are listed below. Please review the MultiTracks.com website to see the costs for these subscriptions.
Lyrics Search: Requires ChartPro Subscription
Chord Import: Requires ChartPro Subscription with ProPresenter Add-on
Automation: Requires ChartPro Subscription with ProPresenter Add-on & Cloud Pro Plus
Again, for additional questions and for information about pricing you would want to review their website and reach out to them if this page does not answer your questions: https://www.multitracks.com/products/propresenterimport
To login with this information, you can choose the search button on the far left side of the toolbar, and choose the MultiTracks.com logo (third option). This should prompt a login screen (though the same login screen can be found from within the Services tab of ProPresenter Preferences), and you will enter your MultiTracks.com account information here.
MultiTracks Search
Once logged in, you can now search from the MultiTracks.com database. When you search for a song, this window should look similar to searching within SongSelect, but there are some differences here.
You should see a preview of the searched song, the album artwork, artist, and album information at the top along with a MultiTracks.com ID.
At the bottom left of that preview window, you will notice a few icons as well. These tell you what features are within this song. The "Az" icon means this item supports Lyric Search. The music note icon means that it supports Chord Import for Stage Screens. The "Eb" in the below screenshot shows what key this song is originally in, but will change per the song searched. The gear icon with the circle around it means that this song supports Automation for MIDI triggering with the MultiTracks.com app, Playback.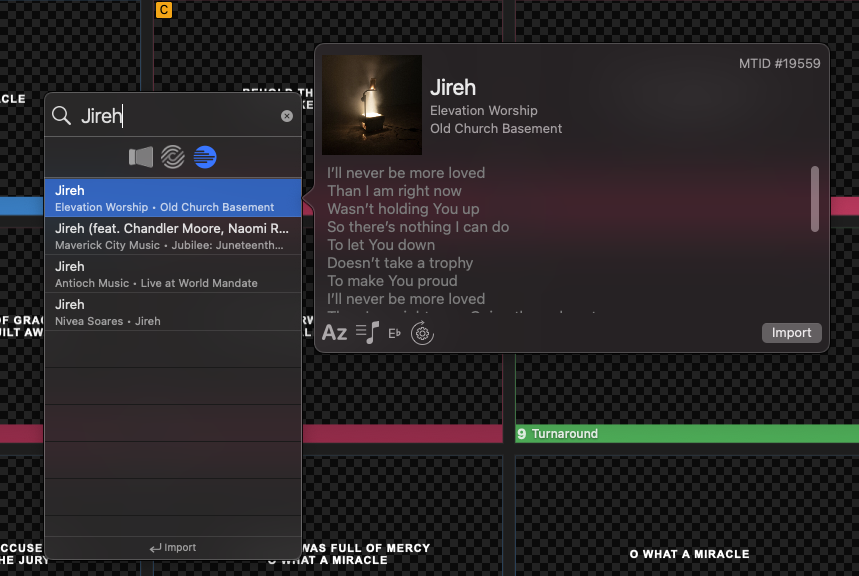 Once you have confirmed this is the song that you need, you can choose "Import" at the bottom right. In the Screenshot Below you will see that you can toggle Chords & Automation if your MultiTracks.com Account has this subscription available. If it does not, you will see this and the Key dropdown greyed out and disabled.
You will also notice that the song can come pre-formatted with 1, 2, or 4 lines of text. If you don't use Chord Import, you can select 1-4 lines. The key that is chosen automatically is the default key but can be adjusted here to show text and chords on your stage screen. Everything else here should look similar to importing via other methods.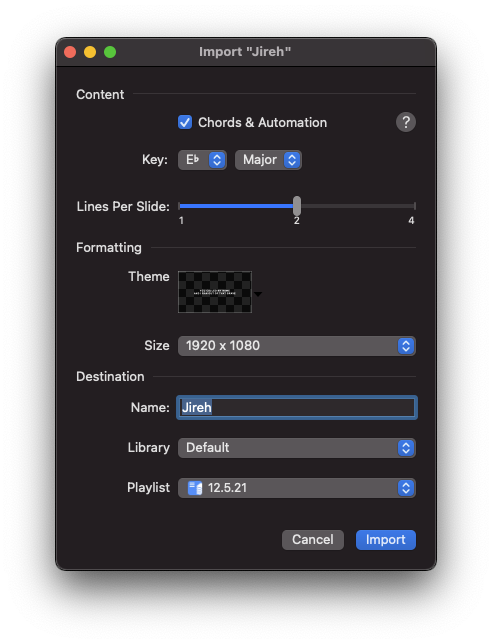 MultiTracks Chords
The great thing about the MultiTracks imports is that the items have chords built into the imported documents (if you have a Chart Pro subscription with the ProPresenter add-on), and this is very beneficial for Worship Leaders to give confidence to the band.
To take a look at this feature, open the Stage Editor from the Toolbar at the top. Once there, click the small "+" button at the top left next to Layouts to create a new Stage Layout. Choose the "MultiTracks Chords + Lyrics" Layout.
In the Stage Editor window, you can configure how you want your stage layout to look, and choose what color the chords are, what color the text is, What notation you'd like to use for Chords (Chords, Numbers, Numerals, etc). You can also create your own layout here and to get this functionality just enable "Chords" in the Text tab of the Stage Editor as well as make sure the text box is linked to the Current or Next Slide text.
MultiTracks Automation
Lastly, with MultiTracks automation you are able to import content that can be automated with MultiTrack's App, Playback, automatically. When searching and importing supported files into ProPresenter, the lyrics are already configured per slide needed and Playback can trigger them over the network from MIDI Notes. To learn how to configure MIDI within ProPresenter, please view our MIDI Knowledge Base Article. A subscription is required for Playback, and more information on this can currently be found on MultiTracks.com.