This article is specifically for Mac Computers. If you need to know how to remove files from OneDrive on a PC, choose this article. ProPresenter7 stores content locally to the hard drive by default. The default location for ProPresenter files is the ~/Documents/ProPresenter folder on a Mac computer. During the process of setting up a user account on the Mac you are prompted to sign into an Apple ID. When signing into this account, you will be prompted to turn on iCloud Drive, which may include the process of syncing your Desktop and Documents folders to iCloud. This is not something that we recommend at this time due to the optimizations needed to work well with syncing data over iCloud Drive.
This article only goes over how to transfer items off of iCloud Drive from the default location, but you can follow along and use a custom location if you have one set up.
An easy way to determine if your data is synced in iCloud is to open System Preferences, and navigate to "Apple ID", and if signed in, choose "Options" next to iCloud Drive. If Desktop & Documents Folders are checked here- this means that your data may be linked to iCloud Drive.
To change this, you can either move your ProPresenter data to a new location by copying this folder to a custom location, or stop syncing your data to iCloud Drive. Our recommendation would be to stop syncing with iCloud Drive on computers being used for ProPresenter, but we will cover how to change the location as well.

Step 1- Close ProPresenter and Disable Desktop & Document Folders
To start this Process, close ProPresenter. The next thing to do is to disable iCloud Drive Syncing for Desktop & Documents Folders. We can do this by navigating to the Apple Logo at the top left of the screen, and choosing "System Preferences". Once there, choose "Apple ID".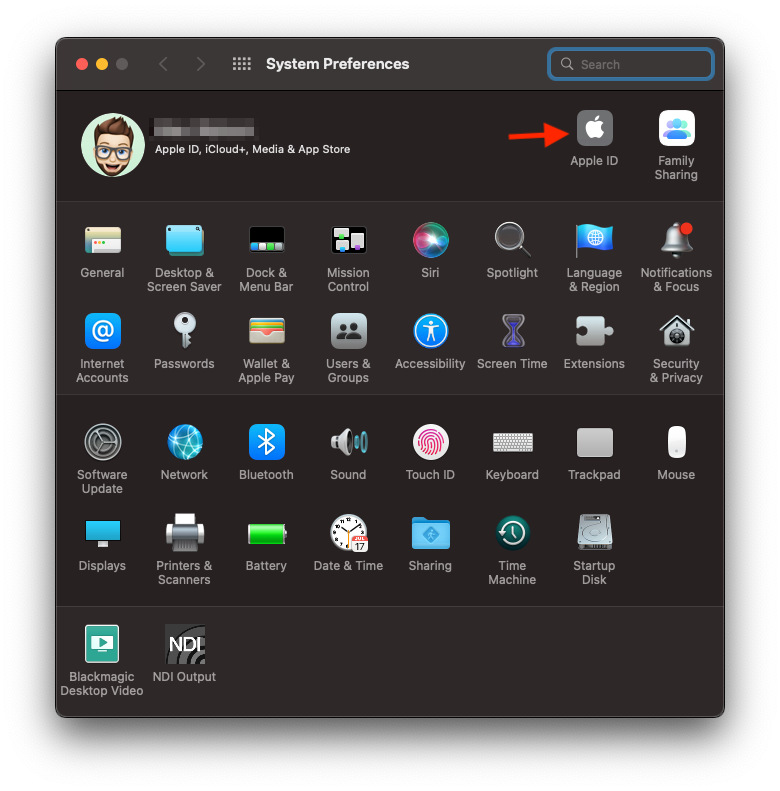 This may show "iCloud" instead of "Apple ID" here depending on the macOS that you are using, but clicking either one will get you in the same spot
After choosing "Apple ID" you can navigate to the iCloud tab on the left, and choose "Options" next to iCloud Drive as shown in the picture below.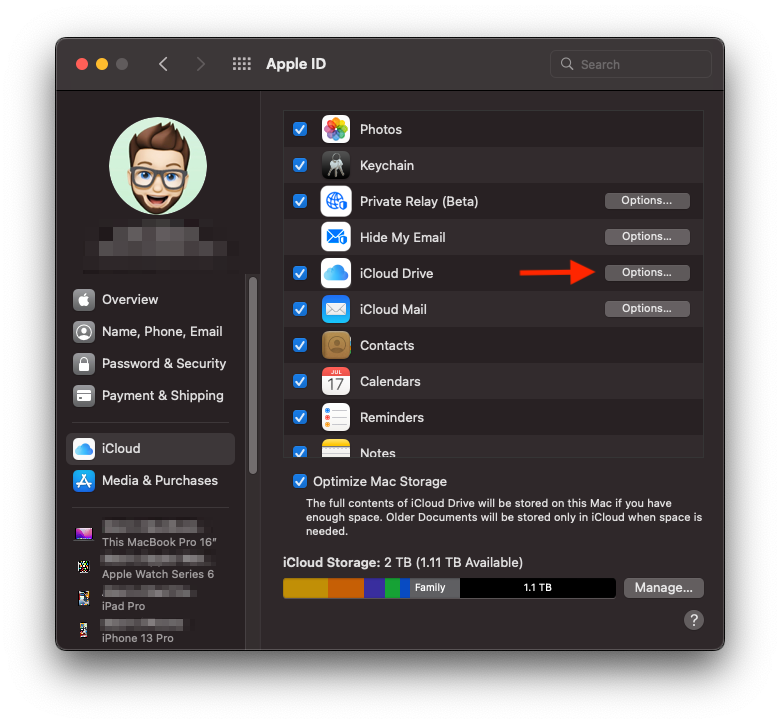 Once you choose Options, you can uncheck "Desktop & Documents Folders" and this will prompt you with a notification that your data will be removed from your local computer, but be available on iCloud Drive.
Step 2- Copy the ProPresenter folder to Documents - Local
The next thing that you should be prompted with is a notification that shows "The items from this Desktop and Documents folder are available in iCloud Drive". Make sure to choose "Show in Finder", but if you've already dismissed the notification, you can find iCloud Drive by opening a Finder window, or clicking on the desktop and choosing Go>iCloud Drive from the menu bar at the top of your screen.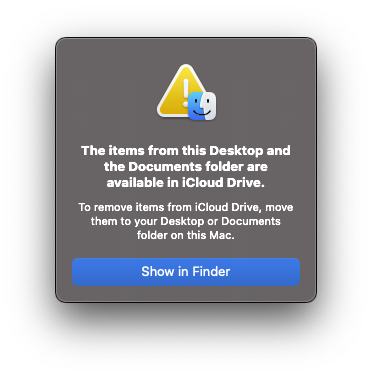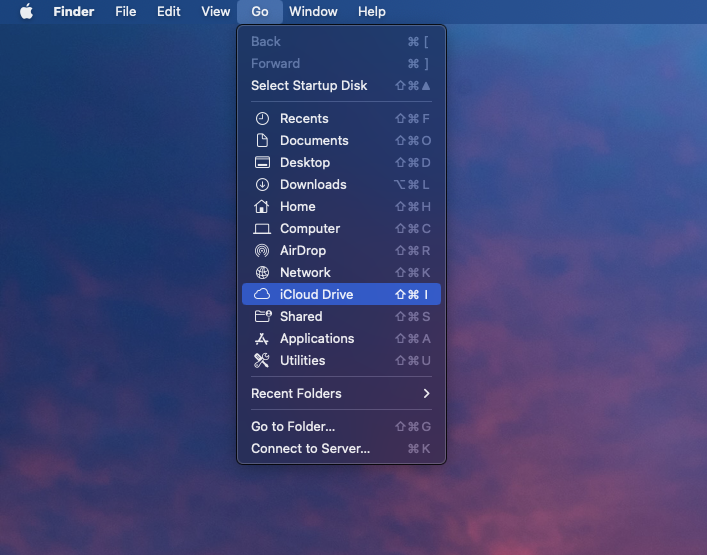 Once here, you need to navigate in to the "Documents" folder and then into we need to copy the "ProPresenter" folder from the Documents folder on iCloud Drive into our "Documents - Local" folder.
It is important here that you copy data from iCloud Drive into the Local Documents folder, instead of moving it because if you have multiple computers using the same Apple ID, you can remove this data from their computer by removing it from iCloud Drive.
To do this, you can either right click and copy, and paste this into the "Documents - Local" folder, or hold the Option key on your keyboard, and drag and drop it into the local Documents folder. It should look like this: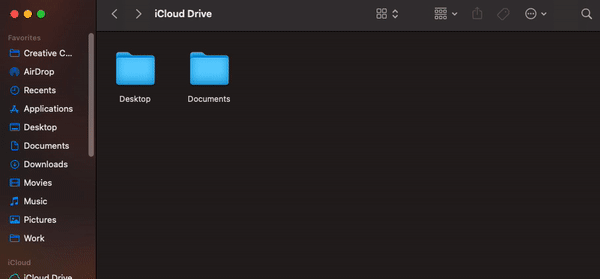 Step 3- Open ProPresenter and verify your data is available
After this has been done, you should be able to open ProPresenter and see your data back in the app. If you do not, check to see if your ProPresenter folder made it into the Documents folder on your computer. Should this folder be here, and you still need help, please reach out to our Support team at contact.renewedvision.com
Should you have to continue using iCloud Drive Desktop & Documents Folders for whatever reason, and need to move your data to a custom location, you can follow the steps below.
Again, the Default Location is in ~/Documents/ProPresenter folder on the computer, so navigate to this Documents folder on your Mac. Once there, you will copy the ProPresenter folder to your custom location. Once copied, we need to tell ProPresenter how to access that folder. To do this, head into the Advanced tab of ProPresenter Preferences, and choose the "📁" icon under "Support Files".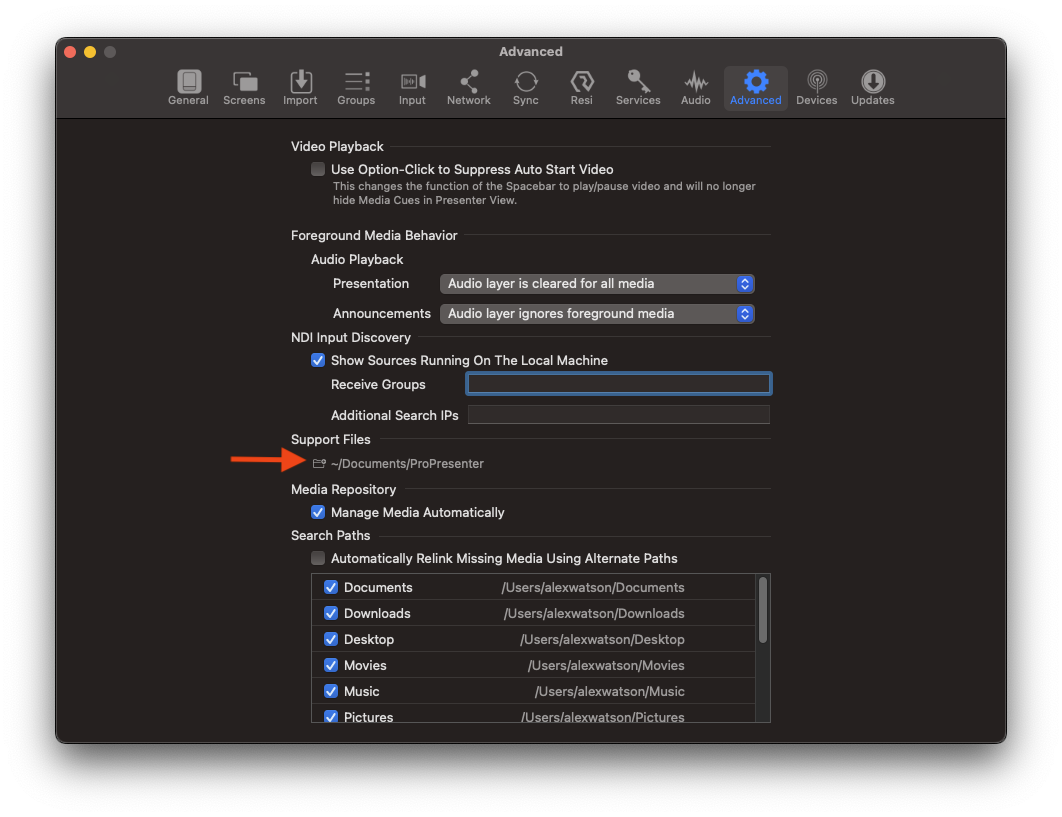 Choose your folder and allow ProPresenter time to load that data.
Should you run into any issue with the above, please reach out to our support team at contact.renewedvision.com and our team will assist there.