ProPresenter7.10 is available for users with a ProPresenter+ renewal date past 07.13.22.
Starting with the new 7.10 update, users can now control the Playhead in the Timeline with Timecode. To get started, you will need to map out a timeline within a presentation. The easiest way to do this is to open the Timeline, by clicking the timeline button (top right of the image below highlighted in blue). This will allow you to drag an audio file up to this area from either the audio bin, or from outside of ProPresenter. Once that is there, you can click the red circle to record, and the play button, and then listen to the track and click the slides as needed. You will notice the slide cues getting added to the top of the timeline, and if needed you can drag and drop these as well to get even more precise timing. Once you are done, you can click the record button again to stop the recording. Make sure to check Timecode to use this with Timecode. The timecode numbers next to this checkbox allows you to set a start point as to where in the timecode you want this song to start. The format here is HH:MM:SS:ff, or Hours:Minutes:Seconds:Frames.

Now that the timeline is built you can select "View>Timecode" from the menu bar at the top, and select the settings gear in this new window. This gear will allow you to configure the audio input for Timecode. In this window, you can choose the device, which channel on the device, the format, and if you need any offset from the actual Timecode signal. The speaker will allow you to verify that you are actually receiving Timecode by playing the sound for the time that the speaker icon is pressed down.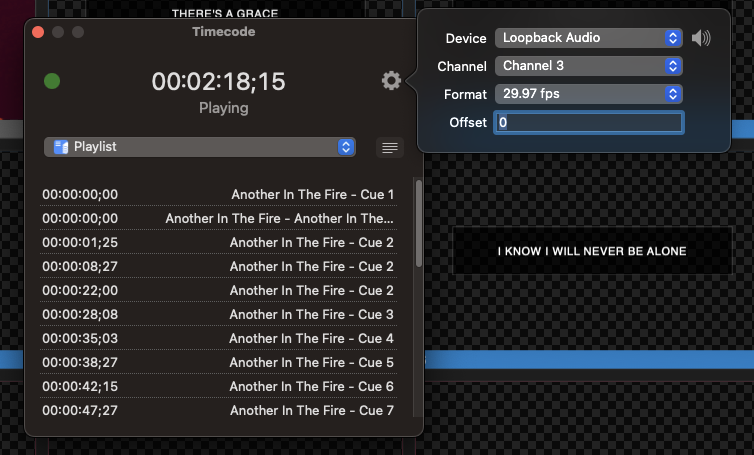 Once you have this input set up, you can then choose which playlist you would like to control via Timecode. When the playlist is selected, you will see the timecode that these slides will be triggered at. You will also notice in our screenshot above that under the timecode numbers it says "Playing". This is actually clickable and you can change this to "Not Engaged" so that it stops listening for timecode and therefore will not trigger anything in ProPresenter. So, if you are having trouble with slides being triggered, please make sure that it does not say "Not Engaged" in this area. It should say "Stopped" or "Playing" depending on if Timecode is running.