The functionality described in this article was introduced in version 7.2, with further functionality in version 7.3
ProPresenter 7.2 enhances the ability to input video and audio feeds into the ProPresenter and how you interact with those inputs.
This article will help you learn how to bring in Audio inputs into the program, as well as how to link them to Video inputs. To learn how to set up a Video input, that's explained in the KnowledgeBase here.
Adding an Audio Input is similar to adding a Video Input, but involves some additional settings/steps.
To add an audio input, click on the + button next to "Audio" on the left column and you'll see an Input device added. You can name this Input either by single-clicking on the Name or entering the name in the main section of the window. Should you need to remove one of the input devices you create, you can right-click or swipe the Input in the left column to delete it.
There are four different modes that you can choose from for your Audio Input. The option you select here will change when/how the audio is input into ProPresenter.
Off — this means that the input is turned off and no audio will be used.
On — this means that the input is turned on at all times from the moment the application is launched.
Auto Off — this option keeps the audio input device turned on at all times except when a Foreground video that contains and audio track is triggered.
Auto On — this option turns the audio device on any time a linked video input is triggered to an Audience screen.

With Auto On enabled, you will see an Options button appear where you can link your Audio to any number of current Video Inputs.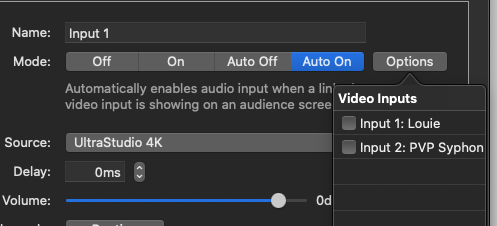 The mode you select is saved between restarts of the program and active immediately upon launch.
You can select the Source for your audio input from the dropdown menu. Note that this dropdown will show you any video inputs that are coming into the program that contain audio, as well as audio-only interfaces.
Once you have an Audio source selected, you can set a delay in milliseconds, the master volume of the input, and also see individual channels of the audio. There is also an option here to set Audio routing if you desire a more advanced signal flow. To learn more about Audio Routing, you can see the article here.
Clicking on the speaker next to Routing will allow you to monitor what your Audio Input sounds like. This will send out through the audio device you have selected for Inspector output in the Audio tab of Preferences.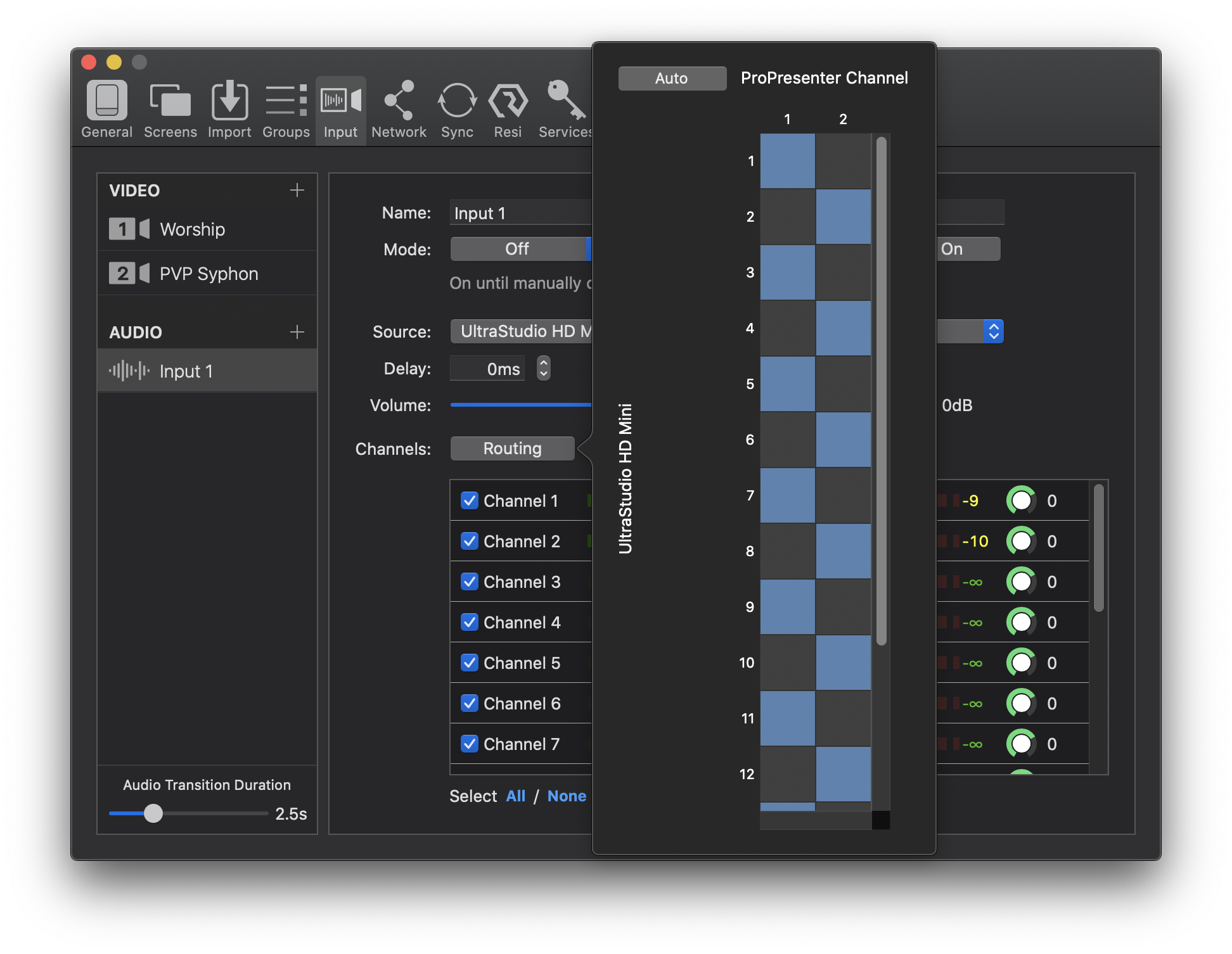 SDI audio inputs consist of 16 available channels, while NDI audio is limited to 8 channels at this time. You can tweak the volume of individual channels either by dragging up/down on the audio knobs or by manually entering a value between -60 and 6dB.
As of 7.3, you can also set an Audio Transition Duration in the bottom left of this window, this will allow you to set an amount of time between 0 and 10 seconds for how long the Audio Input will transition in/out from your output.